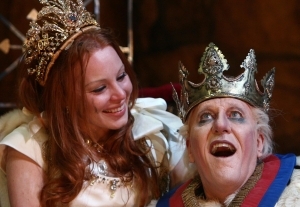 Who knew
Exit the King
was so funny? Certainly not the 14-year-old Ohio lad who saw the play's Broadway premiere in 1968 as his very first Main Stem show. Ellis Rabb's production featured Eva Le Gallienne and Pamela Payton-Wright, with a young Richard Easton in the title role, but I remember it as ponderous and interminable. But now, 41 years later, in director Neil Armfield's magical production, Ionesco's classic entertains mightily even as it gently slips in the shiv of existential despair.
The situation is simple: King Berenger, who is more than 400 years old, is going to die today. But no one has told him: not his first wife, Queen Marguerite, who wants to tell him; his young second wife, Queen Marie, who doesn't; his doctor, who'd rather be elsewhere; his maidservant, who'd like a rest; or his dim but loyal guard. Still, the signs are unmistakable. There's a great crack in the castle wall, the borders of the kingdom are crumbling away, nothing will grow, and most of the king's subjects have fled or died. Queen Marguerite soon has her way, and the gob-smacked Berenger takes one long seriocomic hurtle through the five stages of grief before the play culminates in the inevitable.
It's easy to hear echoes of a certain recent president in this feckless, despotic, and incompetent ruler's absolute refusal to recognize his culpability or cede control for the greater good, and Armfield and star Geoffrey Rush's agile script adaptation accentuates these with sly contemporary references. But Ionesco is after bigger fish, and he sets his hook firmly into the overwhelming narcissism human beings can exhibit in the face of death. At one point in his bargaining stage, Berenger suggests that God let everyone else in the world die instead, so that he may live. Utter loneliness is better than nonexistence. We laugh, and then we pause. Would we take such a deal?
Rush is sensational as the king, showing a peerless gift for physical comedy and a tremendous facility at shifting emotional gears. As Berenger finally faces death, the actor makes the nearly catatonic king's inability to do anything except repeat the word
me
both a devastating indictment and a pitiable truth. As Queen Marguerite, Susan Sarandon finds both the humor and the humanity in the queen's implacable desire to do what must be done. Her final scene, in which she serenely guides the dying king to his end, is mesmerizing. Lauren Ambrose is all selfish youth and beauty as Queen Marie, locating her character's needy core to excellent comic and tragic effect. Andrea Martin's Chaplinesque maidservant is comedic perfection, always fixedly upbeat even when describing the drudgeries of her life, with every emotion visible in its purest form on her perpetually wide-eyed face. William Sadler's doctor is an appropriate apparatchik, and Brian Hutchison is both touching and funny as a guard who desperately wants to please.
Armfield perfectly calibrates the play's journey from absurd comedy into existential darkness, so much so that I wished he hadn't inserted an intermission, something Ionesco didn't provide. Dale Ferguson's set consists mostly of curtains and drapes that dovetail nicely with the long trains his imaginative costumes afford each queen. The set also manages effortlessly to accomplish Ionesco's difficult coup de théâtre at the play's denouement. John Rodgers' music combines with Russell Goldsmith's intricate sound design to enhance tone and punctuate action.
This is a landmark production of a great play. Miss
Exit the King
at your peril.
Presented by Stuart Thompson, Robert Fox, Howard Panter, Scott Rudin, Tulchin/Bartner, Jon B. Platt, John Frost, the Weinstein Company/Norton Herrick, Michael Edwards & Carole Winter, Daniel Sparrow/Mike Walsh, and the Shubert Organizationat the Ethel Barrymore Theatre, 243 W. 47th St
.,
NYC
.
March 26
–
June 14. Tue
.,
7 p.m
.;
Wed
.–
Sat
.,
8 p.m
.;
Wed. and Sat
.,
2 p.m
.;
Sun
.,
3 p.m
.
(
212
)
239-6200
, (
800
)
432-7250, or www.telecharge.com
.
Casting by Daniel Swee
.