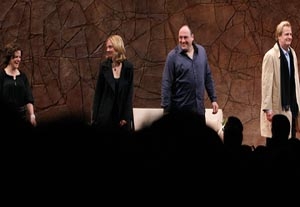 The setup is fairly obvious in Yasmina Reza's
God of Carnage
: Two sets of upper-middle-class parents amicably meet to settle a schoolyard dispute between their young sons. With generous helpings of alcohol, the veneer of maturity is stripped away, and the adults become as irrational and bad-tempered as their kids. You can see this outcome a mile away. Reza tries for deeper context with speeches about man being a basically selfish animal, the blood-red walls of Mark Thompson's abstract set and the jungle drums in Gary Yershon's music suggesting human savagery.
But this is a well-crafted playwriting exercise rather than a believable character study. Early on, Reza plants seemingly insignificant details like time bombs, and they explode later with devastating impact. She also knows exactly how to time a joke for maximum reaction, and she cleverly groups and regroups the combatants in different alliances so you don't always know who is on whose side. Kudos also to Christopher Hampton's translation from the original French, which transplants the action to tony Park Slope, Brooklyn, without any noticeable losses in transit. You can see the wiring in this precision machine, but thanks to a stellar cast and impeccable direction by Matthew Warchus,
God of Carnage
is a feast for both actors and audience.
The quartet is almost perfectly balanced. James Gandolfini at first appears to be playing against Tony Soprano typecasting as Michael, the seemingly milder of the two husbands, but he craftily reveals this man's inner rage with sidelong resentful glances at his starchy wife and barely concealed chuckles as he recalls his own rambunctious childhood. Jeff Daniels is the master of the smug sneer as Alan, a high-powered lawyer wedded to his cell phone. As his wife, Annette, Hope Davis subtly transforms from a polite guest to a quivering nausea victim to an aggressive truth teller ("Puking seems to have perked you up," jibes Michael in one of the evening's most uproarious lines).
If there is such a thing as a first among equals, that would be Marcia Gay Harden as Veronica, Michael's art-historian spouse. At first bristling with liberal intentions and loaded to the gills with the milk of human kindness, she proves to be the most ferocious pugilist in this living-room smackdown. When she tightly asks her hubby for a drink and he denies her request, her slow burn seems to immolate the theatre. Her bottled-up anger erupts like lava from a volcano, and her final, exhausted phone call to her daughter is heartbreakingly funny and sad.
Like Reza's
Art
, also directed by Warchus and designed by the same team, this play was a hit in London and continental Europe and will probably have a long run on Broadway. With its single set, small cast, and high quotient of laughs and
Virginia Woolf
–like dramatic action, look to see
God of Carnage
go through several cast replacements in New York and show up on the rosters of numerous regional theatres.
Presented by Robert Fox, David Pugh & Dafydd Rogers, Stuart Thompson, Scott Rudin, Jon B. Platt, the Weinstein Company, and the Shubert Organizationat the Bernard B. Jacobs Theatre, 242 W. 45th St
.,
NYC
.
Opened March 22 for an open run. Tue
.,
7 p.m
.;
Wed
.–
Sat
.,
8 p.m
.;
Wed. and Sat
.,
2 p.m
.;
Sun
.,
3 p.m
.
(
212
)
239-6200
, (
800
)
432-7250, or www.telecharge.com
.
Casting by Daniel Swee
.