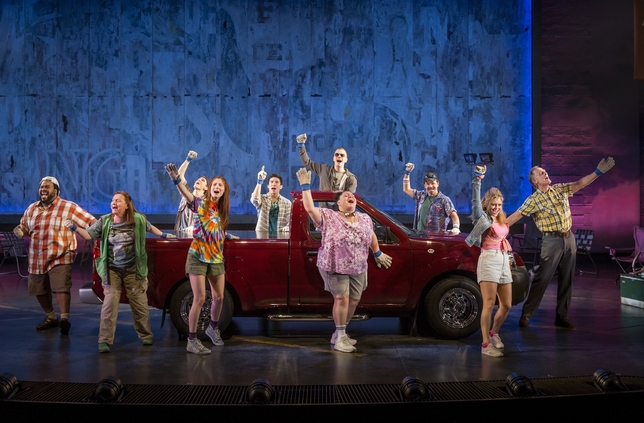 After watching S.R. Bindler's 1997 documentary "Hands on a Hard Body"—about a 1994 Texas contest in which people stand around a Nissan truck while always keeping one hand on it, and the last left upright wins the vehicle—I shook my head and thought, "I just don't see it." Nevertheless, many a good musical has been born out of apparently unpromising material. Now that I've experienced "Hands on a Hardbody"—book by Doug Wright, lyrics by Amanda Green, music by Trey Anastasio and Green—I still haven't seen it. The tuner coarsens its self-effacing, quietly observant source with cheesy soap-opera backstories, forced Lifetime-movie subplotting, and self-righteous hot-button-issue pressing in an obviously manipulative attempt to stir our emotions. Padded out with an unnecessary intermission and extraneous songs to nearly two-and-a-half hours, the proceedings rarely come to life.
The show is basically "A Chorus Line" with a truck. Ten colorful characters making up a cross-section of society reveal themselves to us in song, while the suspense of who is going to win carries us along. Will it be previous champion Benny Perkins, a dog-eat-dog good old boy? Maybe the eagerly evangelistic born-again Norma Valverde will get it, despite her stoutness. It couldn't possibly go to 60-year-old JD Drew, who is recovering from a fall off an oil rig, could it? Non-contestants include JD's hovering wife, Virginia; smarmy dealership sales manager Mike Ferris; driven public-relations person Cindy Barnes; radio DJ Frank Nugent; and gung ho Don Curtis, there to support his wife, Janis, "a tough old bird with sun-burnished skin and missing teeth."
Poor director Neil Pepe and choreographer Sergio Trujillo are stuck with that truck, and their solution has been to have the actors push it hither and yon all evening. Trujillo is granted fantasy sequences during which the actors can roam free, but for the most part his vocabulary consists of constricted vertical movement, and you can feel the straitjacket. He makes it work once, during "Joy of the Lord," an eruption of spiritual rapture from Norma that infects everyone and is imaginatively arranged by Anastasio.
The talented cast works hard, beginning with Keith Carradine, whose stoic JD is clearly intent on restoring his compromised masculinity. When JD explodes at Virginia (an underused but valiant Mary Gordon Murray) for babying him, Carradine courageously doesn't sugarcoat the moment. Hunter Foster gives Benny a dominating macho edge but can't keep his climactic song, "God Answered My Prayers," from devolving into melodrama. Keala Settle goes to town on that gospel number and lends Norma a quiet dignity in her scenes. Dale Soules is a commendably feisty Janis, though it's hard to believe that a reference to paying the boatman at the River Styx, the climax of her angry "It's a Fix," would spring so readily to her lips.
The best thing about "Hands on a Hardbody" is its music. As it's Anastasio and not Green who takes an orchestration credit, I'm guessing he's the primary composer. The tunes have a theatrical muscle that pop songwriters seldom display. I hope he's back soon, with a more amenable property.
Presented by Broadway Across America–Beth Williams, Barbara Whitman/Latitude Link, Dede Harris/Sharon Karmazin, Howard and Janet Kagan, John and Claire Caudwell, Rough Edged Souls, Joyce Primm Schweickert, Paula Black/Bruce Long, and Off the Aisle Productions/Freitag-Mishkin at the Brooks Atkinson Theatre, 256 W. 47th St., NYC. Opened March 21 for an open run. (877) 250-2929 or www.ticketmaster.com. Casting by Telsey + Co./Rachel Hoffman.
Critic's Score: C-