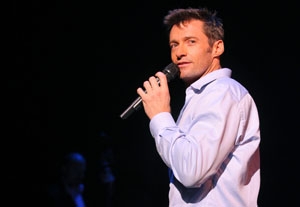 There are definitely better singers, finer actors, and more-accomplished dancers out there than Hugh Jackman. There are even bigger stars. But I'm hard-pressed to think of anyone else in show business today who can levitate an audience the way Jackman is doing right now in his not-exactly-one-man musical show at the Broadhurst Theatre. Combine his potent triple-threat capabilities with unstinting charisma and bottomless geniality and the result is one of the most memorable performers ever to grace a Broadway stage in my lifetime.
"Hugh Jackman, Back on Broadway" is basically a club act writ large, but as it doesn't pretend to be anything more, it's endlessly enjoyable. Director-choreographer Warren Carlyle stages it with smooth style, backing his star up with six lovely and leggy chorines and a smoking 17-piece onstage band under Patrick Vaccariello's swinging baton. Scenic consultant John Lee Beatty's understated work is jazzed up by William Ivey Long's snazzy, sexy costumes and Ken Billington's dancing lights. As is usually the case for such an outing, the material is a mix of songs associated with roles that Jackman has played and new material, with the accent heavily on a Broadway and Hollywood repertoire.
Highlights include an amusing and intricately put-together medley near the top in which Jackman insists that "I Won't Dance" because he's busy bulking up for his next Wolverine movie and terping takes too many pounds off. Of course, he not only fails in his announced resolution but goes on to dance up a storm before the night is through. A ringing pairing of "I Happen to Like New York" and "On Broadway" (with a smidgen of "Lullaby of Broadway" thrown in) makes surprisingly congenial bedfellows out of Cole Porter and the Barry Mann–Cynthia Weil–Jerry Leiber–Mike Stoller songwriting team. Act 2 features a medley of iconic songs from classic film musicals that demonstrates Jackman's versatility and includes some particularly good work from Carlyle, whose choreography gracefully invokes indelible screen moments without slavishly copying them. Jackman also scores big with his closer, a gloss on the popular Bobby Darin recording of "Mack the Knife."
The star opens Act 2 in character as performer-songwriter Peter Allen, the fellow Australian Jackman played on Broadway in the 2004 "The Boy From Oz," winning a Tony for his pains. We ultimately get seven Allen songs from that show, including some Jackman didn't get to sing then, and the sequence is not only a tour de force but also reminds us that Jackman was doing one hell of an acting job in that part. The evening even offers an emotional climax, when Jackman brings on stage four Australian aboriginal musical performers—Clifton Bieundurry, Paul Boon, Olive Knight, and Nathan Mundraby—who hauntingly embellish "Over the Rainbow" with their indigenous musical sounds as Jackman explains his love for their people and his country, a sequence enhanced by Alexander V. Nichols' stunning video montage.
A large part of Jackman's appeal is his intimate bond with his audience. When the star is addressing them or telling stories, they even feel empowered to talk back, something Jackman, a born flirt, clearly enjoys and plays off of adeptly. They love his willingness to make fun of himself, here displayed in a re-creation of his very first audition. He was 14, the show was "The Music Man," and he played all eight salesmen in the famous rhythmically spoken opening number, "Rock Island." It's a hoot.
My two favorite moments of the evening were the opening, with Jackman singing "Oh, What a Beautiful Morning" in character as Curly, a role he played for Trevor Nunn in London, and the first-act closer, a beautifully acted rendition of Billy Bigelow's "Soliloquy" from "Carousel." The man is a superb singing actor, and as entertaining as his current outing is, I long for the day when he's back on Broadway creating a leading role in a new book musical.
Presented by Robert Fox and the Shubert Organization at the Broadhurst Theatre, 235 W. 44th St., NYC. Nov. 10–Jan. 1. Tue., 7 p.m.; Wed.–Sat., 8 p.m.; Wed. and Sat., 2 p.m.; Sun., 3 p.m. (No performance Thu., Nov. 24.) (212) 239-6200, (800) 432-7250, or www.telecharge.com. Casting by Tara Rubin Casting.