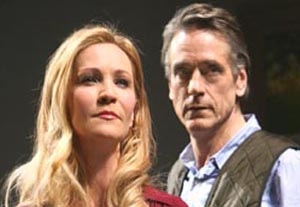 There's a lot of talk in
Impressionism
, Michael Jacobs' shallow romantic comedy-drama about the titular school of painting. Katharine (Joan Allen), a disappointed-in-love gallery owner, explains to her colleague Thomas (Jeremy Irons), an equally downtrodden photographer, that life is like the canvasses of Renoir, Monet, and their ilk. Up close, it's an incomprehensible swirl of colors. You need to step back and get a larger perspective to experience the full effect.
Jacobs attempts to enforce his theme by using the paintings in Katharine's gallery to illustrate turning points in her and Thomas' emotionally blighted lives. At a crucial moment in the present, a spotlight hits the work in question, the scene changes, and we are in a flashback with Allen and Irons either playing their main roles at a younger age or other characters with unconvincing accents. Unfortunately, the result is a blobby, predictable mess rather than an intriguing collage. We know the two characters will wind up together, not because of any dramatic foundation the author has built, but because they are played by stars and this is how such shows usually end—especially on TV.
Jacobs is a veteran small-screen writer who has created such tepid fare as
Charles in Charge
and
My Two Dads
. His characters here are as dimensionless as his sitcom creations. They speak the kind of supposedly snappy dialogue that has every line ending in a laugh. They have sudden revelations and change their entire worldview in a matter of moments. Jacobs has written them as if they had to reach a major life shift in time for the next commercial.
To make matters worse, there is no chemistry between Allen and Irons. They act like cubicle chums killing time till the workday ends rather than the loves of each other's lives. Allen is a shade more invested than Irons. In a few of her moments, she does bring a depth to Katharine's loneliness and bitterness. Irons appears totally bored by the entire enterprise. When called upon to express rage and sorrow at the death of an African child during a flashback, he seems only slightly miffed—as if the corner coffee shop were out of his favorite brand of java.
Marsha Mason as a matronly gallery shopper right out of Upper East Side Central Casting is largely wasted, as are Michael T. Weiss, Aaron Lazar, and Margarita Levieva in various functionary roles. Only André De Shields manages to bring a spark of verisimilitude to his part as a kindly baker who hand-delivers Katharine her cherished muffin (imagine that happening in real life).
This disappointing evening is a surprise, as the production is directed by the normally masterful Jack O'Brien, whose marathon stagings of
The Coast of Utopia
and
Henry IV
flew by. With
Impressionism
, 100 intermissionless minutes seem like endless hours. At least you can play Guess the Artist as several beautiful impressionist classics are shown during the scene changes. Thanks to Elaine J. McCarthy for her projection design. Save your money and visit the Met instead.
Presented by Ostar Productions, Roy Furman, Stephanie P. McClelland, Chase Mishkin, Jamie deRoy, Thomas Murphy, Broadway Across America, Michael Filerman, Eric Falkenstein, Morris Berchard, Matt Murphy/Suisman-Gasparian, Philip Geier/Donald R. Keough, Jennifer Manocherian/Wendy Federman, Randall L. Wreghitt, Barbara Freitag/Ergo Entertainment, and Max Onstage/Hugh Hysell/Richard Jordanat the Gerald Schoenfeld Theatre, 236 W. 45th St
.,
NYC
.
March 24
–
May 10. Tue
.–
Sat
.,
8 p.m
.;
Wed. and Sat
.,
2 p.m
.;
Sun
.,
3 p.m
.
(
212
)
239-6200
, (
800
)
432-7250, or www.telecharge.com
.
Casting by Laura Stancyzk
.