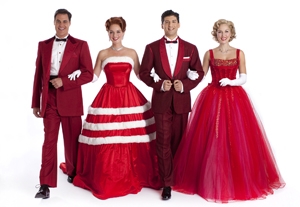 Like a pair of ragged but comfortable old slippers, the return engagement of "Irving Berlin's White Christmas" provides a certain cozy warmth, but the holes are showing. After numerous regional productions and last year's Broadway premiere, this stage version of the 1954 Paramount holiday classic is making its bid for an annual franchise on the Main Stem. Its main selling points are choreographer Randy Skinner's reliable dance numbers and the evergreen Berlin tunes beautifully orchestrated by Larry Blank. I could hear several theatergoers around me humming along with the first few bars of such popular hits as "Blue Skies," "Let Yourself Go," and the title hymn to the joys of frozen Yuletide precipitation. But the book, by David Ives and Paul Blake, is even thinner than the original screenplay—which is saying something—and the cast, despite its considerable musical talents, fails to establish credible characters beyond clichés.
The story is so familiar and corny that it barely needs repeating. Song-and-dance men Bob Wallace (James Clow) and Phil Davis (Tony Yazbeck) pitch in their showbiz know-how to save the ailing Vermont inn of their former commander, while wooing the sister act Betty and Judy Haynes (Melissa Errico and Mara Davi). A silly misunderstanding provides the conflict, and all ends happily while snowflakes fall on stage and in the audience.
Aside from those sparkling songs, the main appeal of the original film and all those brainless-but-fun movie musicals of the '30s, '40s, and '50s was in the glittering personalities of their stars. It would be unfair to compare the current lead quartet to Bing Crosby, Danny Kaye, Rosemary Clooney, and Vera-Ellen. But with the exception of Tony Yazbeck, who brings a devilish charm to the mischievous Phil, these actors tend to fade into the woodwork of Anna Louizos' kitschy sets. Don't get me wrong: They've all got great voices, and Yazbeck and Davi dance with precision, but they lack that extra oomph that makes a performance memorable.
As Bob and Phil's crusty but lovable former general, David Ogden Stiers—of "MASH" fame—maintains his dignity amidst the hokey goings-on. When he delivers a heartfelt holiday greeting to his reunited troops, I was on the brink of choking up. You know you're in trouble when the most interesting person is the character man. Ruth Williamson gives Martha, the nosy housekeeper, much-needed spice, but there's only so much this crafty veteran can do with such limited material. My favorite number remains "Falling Out of Love Can Be Fun," a novelty trio for Martha and the Haynes girls expressing the unexpected benefits of breaking up. It's funny, different, and snappy, as the older woman advises the two youngsters in the ways of the world.
Walter Bobbie's direction and Skinner's dances are professionally executed, but this brightly wrapped package makes me feel as if I've been re-gifted.
Presented by Kevin McCollum, John Gore, Thomas B. McGrath, Paul Blake, the Producing Office, Dan Markley, Sonny Everett, and Broadway Across America, in association with Paramount Pictures, at the Marquis Theatre, 1535 Broadway, NYC. Nov. 22–Jan. 3. Schedule varies. (212) 307-4100, (800) 755-4000, or www.ticketmaster.com. Casting by Jay Binder and Nikole Vallins.