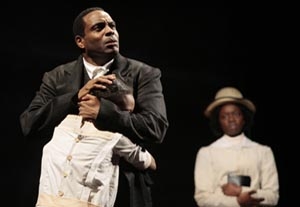 When I saw August Wilson's
Joe Turner's Come and Gone
21 years ago, I thought, Wow. That's his best yet. After seeing Lincoln Center Theater's loving revival, I thought, Damn. That's his best ever.
Wilson's 10-play cycle dramatizing the black experience in 20th-century America is an immeasurable addition to our dramatic literature, and
Joe Turner
is its crown jewel. The play follows a disparate group of residents in a 1911 Pittsburgh boarding house, but what it's really about is the soul of a long-enslaved, recently emancipated people growing painfully and proudly into freedom.
Seth and Bertha Holly, happily married after more than 25 years, run the house, whose inhabitants initially are Bynum Walker, a serene conjure man in his 60s, and Jeremy Furlow, a handsome, spirited young laborer who plays a mean guitar and has an eye for the ladies. Soon joining their company are Herald Loomis, a 32-year-old church deacon, and his quiet 11-year-old daughter, Zonia. The brooding, imposing Loomis is searching for his wife, Martha, who left Zonia with family in the South and moved north with her church while Loomis was unjustly incarcerated for seven years. Mattie Campbell, a demure young woman whose "man" has left her because their two sons died as infants, comes to see Bynum for help getting him back and ends up involved with Jeremy, at least until the bewitching, independent Molly Cunningham shows up.
Wilson sets up his theme early on when Bynum talks about his supernatural encounter as a young man with a "shiny man," who showed him the secret of life and helped him find his song. Wilson's characters are all either searching for their song or trying to sing it; that is, they are trying to discover what they are meant to do with their lives and then to do it well, despite the still virulently racist society they live in.
As befits a play using song as a central metaphor, Wilson's writing brims with musicality, here beautifully orchestrated by director Bartlett Sher and his fine cast. Ernie Hudson endows the fussy, ornery Seth with gravitas and great charm, and LaTanya Richardson Jackson is rock solid as the strong, confident woman who anchors him. Andre Holland is a magnetic Jeremy, and Marsha Stephanie Blake and Aunjanue Ellis are a striking study in contrasts as the two women interested in him, with Ellis showing great emotional range in what is admittedly the showier role. As the darkly troubled Loomis, Chad L. Coleman takes a slightly different approach from Delroy Lindo's towering performance in the original production; Coleman's Loomis is less tortured and more lost, making us less certain as to whether or not he will be able to achieve his sought-after apotheosis.
The show's breakout performance belongs to Roger Robinson as Bynum, whose dancing eyes, impish grin, and effortless authority create the magic Wilson calls for. Whether longing for his shiny man or talking Loomis down from a terrifying supernatural vision, he gives the evening its center and its soul.
Sher and his crack design team of Michael Yeargan (set) and Catherine Zuber (costumes) have joined with lighting designer Brian MacDevitt to create a gorgeous production that merges the rich expansiveness of their
South Pacific
and
The Light in the Piazza
with the expressionistic fragmentation of their
Awake and Sing
!, surrounding the containment of the boardinghouse with a sense of the cosmic and making a world that feels perpetually on the precipice.
Despite its excellence,
Joe Turner's Come and Gone
lasted only 105 performances in its first Broadway appearance. Lincoln Center Theater is to be commended for giving us the opportunity to rediscover this American masterpiece.
Presented by Lincoln Center Theater at the Belasco Theatre, 111 W. 44th St
.,
NYC. April 16
-
June 14. Tue
.-
Sat
.,
8 p.m
.;
Wed. and Sat
.,
2 p.m
.;
Sun
.,
3 p.m
. (
212
)
239-6200
, (
800
)
432-7250, or www.telecharge.com. Casting by Daniel Swee
.