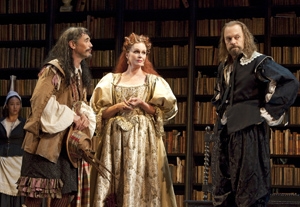 When it premiered on Broadway in 1991, David Hirson's "La Bête," a dazzlingly erudite comedy in verse, enthralled some critics, but as it features clashing wits rather than crashing chandeliers, too many theatergoers reacted with a big yawn. It didn't help that it was not a musical, there were no stars in the cast, and director Richard Jones delivered a somewhat cold, antiseptic production. Audiences stayed away and "La Bête" was put to sleep after 25 performances. Now a new version, headlined by two major names from television and a brilliantly funny Tony winner, is in residence at the Music Box, and playgoers will get the chance to experience the verbal fireworks they missed almost 20 years ago.
Set in 17th-century France, the play pits the idealistic playwright-actor Elomire against the vulgar street clown Valere, the beast of the title. When the temperamental princess who is Elomire's patroness insists that Valere join the former's theatrical troupe, Elomire must choose between artistic principles and financial security. The battle is on between Elomire's esoteric sensibilities and Valere's vapid vulgarities, and their weapons are words. Hirson gives us a spectacular display of ideas, exquisitely expressed in rhyme, as the characters debate the purpose of the theater. His condemnation of pandering by the arts—and by all aspects of public life—to the lowest common denominator is even more relevant today, as reality TV, Fox News, and Tea Party candidates threaten to dominate our culture.
Director Matthew Warchus, who proved he can handle raucous comedy with his West End and Broadway stagings of "Boeing-Boeing," perfectly balances slapstick farce with sophisticated banter. Mark Rylance, who bounced off the walls and won a Tony Award as the buffoonish hero of "Boeing," gives a riotously memorable turn as the incredibly obnoxious Valere. The play opens with a marathon monologue from this spectacularly egotistical fool. Pulling out every trick in the actor's book, Rylance turns this aria of vanity into a tour de farce, as Valere endlessly praises his own brilliance while expelling gas and burps, misquoting the classics, and making a shambles of Elomire's home.
Miraculously, David Hyde Pierce holds his own as the besieged Elomire. His well-timed reactions to Valere's excesses are just as funny as the outrages that cause them. Elomire is also persuasive and passionate when defending his literary integrity. Joanna Lumley gives us a princess who is a somewhat classier version of the self-centered Patsy she portrayed on the cult British series "Absolutely Fabulous." It's a surprisingly restrained performance and fits the regal nature of the character, which, incidentally, was originally written as a man.
Stephen Ouimette is a perfect foil for both leads as the put-upon Bejart, a hunchbacked member of Elomire's troupe. Greta Lee strikes the one off-note by overplaying the monosyllabic maid Dorine.
I remember the original production featured an all-white, abstract set. The present design takes a more realistic approach and complements the more audience-friendly tack taken by Warchus. Mark Thompson's book-lined study and his gorgeous period costumes, along with Hugh Vanstone's poetic lighting, create the perfect setting for this new, jewellike "La Bête."

Presented by Scott Landis & Sonia Friedman Productions, Roger Berlind, Bob Bartner/Norman Tulchin, Bob Boyett/Tim Levy, Roy Furman, Max Cooper, Dan Frishwasser, Bud Martin, Philip Morgaman/Frankie J. Grande, and Stephanie P. McClelland/Hagemann-Rosenthal, in association with 1001 Nights, Richard Winkler, at the Music Box Theatre, 239 W. 45th St., NYC. Opened Oct. 14 for an open run. Tue., 7 p.m.; Wed.–Sat., 8 p.m.; Wed. and Sat., 2 p.m.; Sun., 3 p.m. (212) 239-6200, (800) 432-7250, or www.telecharge.com. Jim Carnahan, U.S. casting. Lisa Makin, U.K. casting.