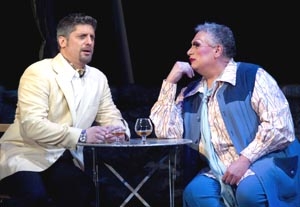 Almost a year after its Broadway opening, the Menier Chocolate Factory's scaled-down revival of "La Cage aux Folles" retains its raw appeal and sentimental charm. You still feel as if you're ringside at a slightly sleazy but fun-filled cabaret, rather than way in the back of an elaborate, touristy supper club, as was the case with the 1983 original and the misbegotten 2004 Broadway revival.
Jerry Herman's tuneful score is still masterfully delivered by the small orchestra, and the six dazzling Cagelles put across Lynne Page's campy choreography as sharply as ever. In addition, Terry Johnson's sensitive staging treats the gimmicky premise of a gay couple hiding their flamboyance from their son's conservative future in-laws as a credible family conflict rather than as sitcom fodder.
One of the main reasons for this version's success was Douglas Hodge, who starred in the production in London and won a Tony when he made the trip across the pond. Hodge threw himself into the performing diva aspect of Albin, the cross-dressing star of the titular Riviera nightclub, while also making a convincing romantic partner to Kelsey Grammer's Georges, the less-flighty emcee and owner of the nitery, and surrogate parent to Jean-Michel, their recalcitrant and rebellious offspring. Now filling Hodge's pumps is Harvey Fierstein, author of the book and veteran of drag roles in such hits as "Hairspray" and his own "Torch Song Trilogy." It's perfect casting, and he brings zany humor, expert timing, and tender pathos to the role.
Fierstein has become that rare entity: the one-of-a-kind Broadway star. Like Gwen Verdon, Ethel Merman, Carol Channing, Bernadette Peters, Zero Mostel, and Nathan Lane, he's an outsized personality who brings his own unique qualities to whatever role he's playing, making it indelibly his own. Too large for the screen, this type of performer reigns supreme on the stage. Fierstein employs his bullfrog voice, malleable features, and expressive gestures to create an Albin who is not only the unquestioned star of La Cage but also the loving mother figure of his household.
Though the role is now iconic, he brings fresh ideas and insights to each moment. Watch how he handles "I Am What I Am," the Act 1 finale that has become the unofficial anthem of gay self-expression. Rather than treating it as a showstopper, Fierstein begins softly—he politely asks the other drag queens to leave the stage instead of ordering them off—then slowly builds in intensity till his running off down the theater aisle comes as a shock, even though we know it's coming.
Christopher Sieber, who stepped into the role of Georges after Jeffrey Tambor withdrew following only a few performances, is Fierstein's match in every respect. Commandingly masculine yet comfortable with his feminine side, Sieber is far more than (pardon the expression) a straight man to the electric Fierstein, as Grammer was to Hodge. On stage far more than Fierstein, Sieber is the solid anchor for the evening, endowing "Song on the Sand" and "Look Over There" with tenderness and injecting his comic bits with ribaldry. There is also a sly intimacy between the leads that was missing from the pairing of Hodge and Grammer. Though their predecessors were convincing as a couple, Fierstein and Sieber go even further, spicing up several laugh lines with a playful sexuality.
As the ditzy butler Jacob, Wilson Jermaine Heredia lacks Robin de Jesús' spark. But newcomers Mike McShane and Allyce Beasley give depth to their double roles of café proprietors and those disdainful in-laws. Holdovers A.J. Shively as Jean-Michel; Elena Shaddow as his girl, Anne; and Christine Andreas as the glamorous restaurateur Jacqueline have settled into their roles and added welcome shadings.
Presented by Sonia Friedman Productions, David Babani, Barry and Fran Weissler and Edwin W. Schloss, Bob Bartner/Norman Tulchin, Broadway Across America, Matthew Mitchell, Raise the Roof 4, Richard Winkler/Bensinger Taylor/Laudenslager Bergère, Arlene Scanlan/John O'Boyle, Independent Presenters Network, Olympus Theatricals, Allen Spivak, Jerry Frankel/Bat-Barry Productions, and Nederlander Presentations/Harvey Weinstein at the Longacre Theatre, 220 W. 48th St., NYC. Opened April 18, 2010, for an open run. Tue.–Sat., 8 p.m.; Wed. and Sat., 2:30 p.m.; Sun., 3 p.m. (212) 239-6200, (800) 432-7250, or www.telecharge.com. Casting by Duncan Stewart.