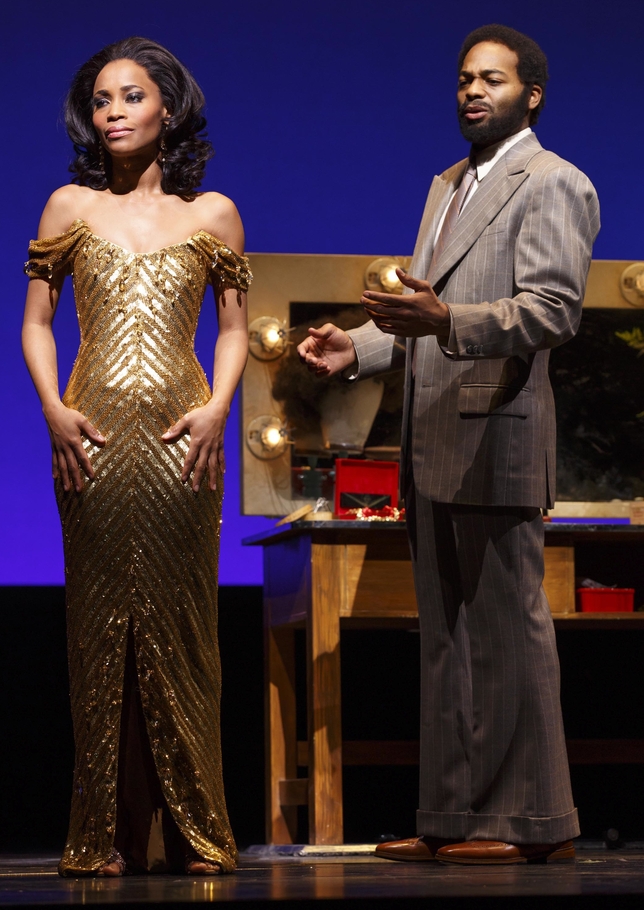 According to the Playbill for "Motown: The Musical," the show stuffs 67 songs into its two-hour-and-45-minute running time. Such abundance suggests that impresario Berry Gordy—who created the fabulously successful music factory and has written and produced this entertainment about its history—has strong convictions about what his audience wants. If you are looking to bathe in nostalgia evoked by beloved tunes while watching talented and committed professionals do their industrious best to locate the magic of legendary performers, this is the show for you. If you prefer a well-written story with multidimensional characters that digs beneath the surface and uses song with dramatic acumen, then steer clear.
Gordy's script unfolds in flashback, beginning in 1983 Los Angeles on the day of a 25th anniversary show that will reunite all of Motown's greats, most of whom have since left the company for greener pastures. A miffed and mopey Gordy is refusing to attend, to the consternation of his staff. "You're gonna turn your back on the dream you started 25 years ago?" one of them asks incredulously. "My dream started long before that," he replies, and sure enough we're suddenly in 1938 Detroit, on the day that fighter Joe Louis won the heavyweight championship, an event Gordy credits with giving him a passion to make people happy.
Clichés abound ("The pressure of fame is vicious," "I'm never gonna give up on my dream") as Motown's rise is rendered in hagiographic chronological scenes depicting the always well-meaning Gordy as the nicest guy in the room. The songs are used mostly as performance numbers, but there are random, rarely successful attempts to make some of them into book songs, along with a few new ditties by Gordy and composer Michael Lovesmith (who rates neither a title-page credit nor a program bio) that wanly attempt to dramatize a few key moments.
Director Charles Randolph-Wright's fluid but old-fashioned staging complements the corn level. Choreographers Patricia Wilcox and Warren Adams excel at reproducing the funky moves of groups such as the Temptations, the Four Tops, and, of course, the Supremes, but when trying to represent the tumult of the 1960s in "War" or the anger and rage engendered by the assassination of Martin Luther King in "What's Going On," their effortful work falls short. Ethan Popps scintillating orchestrations and arrangements (done with Bryan Crook) pop beautifully under his superb musical direction. The physical production—sets by David Korins, lights by Natasha Katz, costumes by Esosa— is efficient but unremarkable.
Stuck playing a cipher, Brandon Victor Dixon falls back on his considerable reservoirs of charm and gorgeous tenor voice to give Gordy presence. Valisa LeKae, as Diana Ross, captures the lady's singing style and goes convincingly from innocent teenager to hard-working performer to glamorous solo star yet never quite arrives at diva. Charl Brown renders Smokey Robinson with uncanny accuracy but tends to embrace the cheesy book scenes too enthusiastically. Bryan Terrell Clarke is a gratifyingly subdued Marvin Gaye; Clarke's a cappella rendition of "Mercy Mercy Me" as Gaye tries to explain to Gordy why he is striking out on his own is hauntingly effective. Stealing the show is Raymond Luke Jr. as the young Michael Jackson. It's not just that Luke has the sound and the moves down cold; his innocent, radiant joy in performing momentarily elevates the proceedings to a whole new level.
Though some fans may be disappointed that so many of the songs flash by in snippets, Gordy has gambled that "Motown: The Musical" is all about its music—and he's probably right.
Presented by Kevin McCollum, Doug Morris, and Berry Gordy at the Lunt-Fontanne Theatre, 205 W. 46th St., NYC. (877) 250-2929 or www.ticketmaster.com. Casting by Telsey + Company/Bethany Knox.
Critic's Score: C-