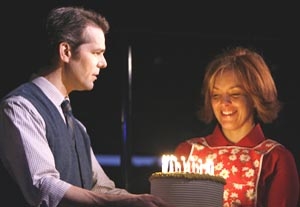 When
Next to Normal
played at Off-Broadway's Second Stage last year, Brian Yorkey's book and lyrics lacked the character complexity necessary to tell his ambitious story satisfactorily. Yorkey, composer Tom Kitt, and director Michael Greif went back to work, and Washington, D.C.'s Arena Stage admirably gave the show a second chance. The well-received reworked version has now been brought to Broadway. There is improvement, particularly in Act 1, which gets more swiftly to its story and better fleshes out its characters. Some radical shifts in tone have also been addressed. Nevertheless, the show still fails to persuade.
The musical tells the story of Diana, a woman in her late 30s whose 16-year battle with bipolar disorder has wounded her teenage daughter, Natalie, but only strengthened the love of her husband, Dan. Diana struggles with overmedication, goes off her meds with disastrous results, and undergoes electroshock therapy. We see the toll on her marriage and on Natalie, who becomes involved in a relationship with 18-year-old stoner Henry that is forced to accommodate too many parallels to Diana and Dan's.
At the center of Diana's story is her son, Gabe, who is initially portrayed as 17 and about to graduate from high school. Then it's revealed he died as a baby, and the teenager is Diana's hallucination. His death triggered the onset of her illness. But Gabe isn't just a hallucination. In the opening number he sings directly to the audience of his feelings and desires, and eventually he communicates with his father, late in Act 2. He seems driven to win his parents' love. But Gabe is illusory and can't be anything more than a symbol, one the authors employ in contradictory ways that invite our disbelief and consequent emotional disengagement.
Yorkey's lyrics still lack specificity, relying too often on platitudes frequently shared by several characters simultaneously with supposedly different meanings. The arbitrary use of false rhymes (
dark/apart, did it/hit it
) doesn't help. Kitt's varied score gives the show energy, but the employment of rock to dramatize anger becomes generalized and distancing.
Particularly damaging is the show's ending. Diana decides that her problem is not medical but "in her soul" — whatever that means — and though she still loves him, her marriage to Dan has been wrong from the start. She refuses further medical treatment and leaves husband and daughter to go home to Mom and Dad. Dan and Natalie experience gerrymandered psychological breakthroughs and everybody sings an unearned feel-good anthem about letting "light" into their lives. All I could think was, poor Mom and Dad.
The estimable Alice Ripley makes Diana more compelling than she's written and sings with power and precision. As Natalie, Jennifer Damiano ingeniously finds as many different ways to be damaged as she can, and Adam Chanler-Berat is charming if a bit one-note as her insistent suitor. Aaron Tveit as Gabe provides a riveting stage presence and an impressive voice but is still stuck playing a melodramatic symbol. J. Robert Spencer is a more boyish and brittle Dan than Brian d'Arcy James, who played the role at Second Stage, lacking the latter's emotional richness and quiet authority. Louis Hobson manages to register in the bland roles of two doctors.
Greif stages the show smartly on Mark Wendland's triple-tiered metal set that, as evocatively lit by Kevin Adams, imaginatively represents the family home, Diana's mind, and other locations. Greif does, however, allow some of the ballads to dilute the show's swift pacing.
As Broadway becomes increasingly hostile to the presence of serious musicals, one roots even harder for those that make it there to succeed.
Next to Normal
, alas, still misses the mark.
Presented by David Stone, James L. Nederlander, Barbara Whitman, Patrick Catullo, and Second Stage Theatre at the Booth Theatre, 222 W. 45th St
.,
NYC. Opened April 15 for an open run. Tue
.,
7 p.m
.;
Wed
.-
Fri
.,
8 p.m
.;
Sat
.,
2 and 8 p.m
.;
Sun
.,
3 and 7:30 p.m
. (
No performance Thu
.,
April 16
.) (
212
)
239-6200
, (
800
)
432-7250, or www.telecharge.com. Casting by Telsey
+
Company
.