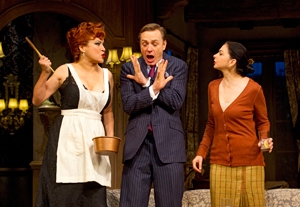 Some shows just suffer from bad timing. In the case of "Don't Dress for Dinner," the infantile farce from Roundabout Theatre Company, it's had triple bad luck. Not only does it open on the same night as another Broadway offering ("Leap of Faith"), but it also pales in comparison to Matthew Warchus' zanier 2008 production of "Boeing-Boeing," by the same author (Marc Camoletti), and the recently opened, similarly slapstick-laden "One Man, Two Guvnors," from Great Britain's National Theatre.
We're back in the early 1960s of "Boeing-Boeing," and the two heroes of that sex-crammed show, Bernard and Robert, are up to the same philandering tricks. Bernard is no longer a Parisian bachelor juggling girlfriends but a husband sneaking a mistress into his country home while his wife, Jacqueline, is off to visit her mother. (Both men have apparently divorced the airline stewardesses they became engaged to at the end of "Boeing.") As he did in the earlier play, Robert aims to use the more innocent Bernard to cover up his bedroom high jinks by inviting his friend up for the weekend. But Robert is no longer such a shy lamb; he's actually carrying on with Jacqueline behind Bernard's back. Hilarity supposedly ensues when Jacqueline cancels her visit to Mama and a cook shows up and gets mistaken for Bernard's tootsie because they have similar names.
Forget the inconsistencies and plot holes; a stage farce can only work if the direction and performances are real and honest within the insane framework. That's why the 2008 "Boeing" was so screamingly funny. The situations were ridiculous, but the actors-particularly Mark Rylance, in a Tony-winning performance as Robert-were serious in pursuit of their characters' goals. It's the same with "One Man, Two Guvnors." Unfortunately, most of the company in "Dinner" seems mainly interested in grabbing laughs rather than following objectives. Also, there's no underlying connection among any of the figures as they dash around John Lee Beatty's charmingly rustic farmhouse set. Adam James' buffoonish Bernard has no spousal love for Patricia Kalember's icy Jacqueline or wanton ardor for Jennifer Tilly's cartoonish Suzanne, his mistress. Similarly, Ben Daniels, so steamy and sexy in Roundabout's "Les Liaisons Dangereuses" a few seasons ago, is a cold, flapping fish here.
Tilly at least has an amusing scratchy-squeaky voice and William Ivey Long's riotous costumes to work with. But only Spencer Kayden, memorably bizarre as Little Sally in "Urinetown," invests her character with clear intentions. Kayden's Suzette is initially just trying to understand what's going on in this crazy house. Once she realizes that the sexual machinations are too complicated to comprehend, she decides to take advantage of the situation, first by demanding extra money from Robert and Bernard for keeping her mouth shut and then by enjoying herself. She does the latter by flirting with the attractive Robert and dancing a comic tango with him-the highlight of this mediocre muddle. By anchoring her kooky antics in reality, Kayden easily steals the show. David Aron Damane gets some honest yuks as the cook's hulking husband, but the role is too brief to have much impact.
If the whole company had followed Kayden's lead, or if director John Tillinger had revved up his tepid staging, this could have been a satisfying "Dinner." Instead, it's like being served a tray of meager appetizers when you were expecting a full meal.
Presented by Roundabout Theatre Company, in association with Damian Arnold, at the American Airlines Theatre, 227 W. 42nd St., NYC. April 26-June 17. Tue.-Sat., 8 p.m.; Wed., Sat., and Sun., 2 p.m. (212) 719-1300 or www.roundabouttheatre.org. Casting by Jim Carnahan/Carrie Gardner and Stephen Kopel/Laura Stanczyk