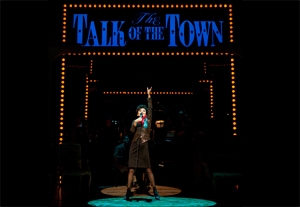 British actor Tracie Bennett is not too well-known on these shores. Yet when she enters at the top of Peter Quilter's "End of the Rainbow," she earns a round of applause. That's because she playing an iconic figure, the titanically talented Judy Garland, toward the finish of her roller-coaster career. It's 1968, and the famously troubled singer is about to make yet another comeback, in a series of London concerts. With her manager and soon-to-be fifth husband, Mickey Deans, and loyal accompanist Anthony, a fictional amalgam of her gay followers, in tow, Garland is broke, desperate, and addicted to booze and pills. Though the audience is applauding the legend as Bennett enters William Dudley's stylish hotel-suite set, by the end of the evening she earns roars of approval for her own high-energy, heartbreaking performance.
What Bennett, who played the role in West End and Guthrie Theatre productions, offers is not an imitation but the essence of Garland. Her physicality is perfect, with a petite frame housing a dynamo of nerves and emotions, and she conveys the magnificent voice, exhausted but still retaining its signature nuance and power. When Bennett brings the two together in the numerous musical numbers performed during the singer's engagement at British nightspot The Talk of the Town, backed by a crackerjack five-piece ensemble, it's theatrical magic. Whirling about the stage like an out-of-control wind-up toy, Bennett generates an electric current as she limns Garland's bottomless need for love, sending that charge shooting out into the Belasco Theatre. After Garland has downed a fistful of uppers to work up her courage to go onstage, she delivers a frantic "Come Rain or Come Shine" that's positively scary. Bennett is so convincing that you almost feel the adrenaline rush from the drugs coursing through Garland's body as she races to finish the number before she crashes. The nonmusical moments are equally compelling; Bennett runs the proverbial gamut of feelings, from narcissistic rage to needy anguish to hysterical high jinks. There's a particularly funny sequence in which Garland pretends to be a dog after mistakenly swallowing some canine medicinal pills. This is the kind of star turn for which the phrase "tour de force" was invented.
As for Quilter's play, it's little more than a vehicle for Bennett's amazing performance. A tabloid view of Garland's final descent into despair and self-destruction—she died a few months after the action of the play, of a drug overdose—the work doesn't give us much that's new or insightful about the familiar material. Many of the quips and anecdotes are rehashed from biographies and interviews. Several of the quarrels between Garland and Deans over her refusal to perform feel like retreads from her last film, "I Could Go On Singing," in which the star plays a semiautobiographical figure battling similar demons.
Despite the script's shortcomings, "Rainbow" is a definite high. Director Terry Johnson skillfully balances the hyped-up confrontations with the quieter interludes, and Jeffrey Saver's musical direction gives us a first-rate concert along with the story line. Tom Pelphrey, as Deans, and Michael Cumpsty, as Anthony, are at a distinct disadvantage, portraying pillars supporting Bennett's gigantic Garland, but they handle their workmanlike assignments with professional aplomb. Jay Russell gets some laughs in three utilitarian roles.
There are productions that exist solely to feature a spectacular star. This is one of them. Rush to the Belasco to catch Bennett and revel in her—and Garland's—glory.
Presented by Lee Dean, Laurence Myers, Joey Parnes, Ellis Goodman, Shadowcatcher Entertainment/Alhadeff Productions, National Angels U.S., Charles Diamond/Jenny Topper, Myla Lerner/Andrew Bryan, Spring Sirkin/Candy Gold, Hilary Williams, and S.D. Wagner and John Johnson, in association with Guthrie Theatre, at the Belasco Theatre, 111 W. 44th St., NYC. Opened April 2 for an open run. Tue and Thu., 7 p.m.; Wed., Fri., and Sat., 8 p.m.; Wed. and Sat., 2 p.m.; Sun., 3 p.m. (Tue. and Thu., April 3 and 5, 8 p.m.; no performance Sun., April 8.) (212) 239-6200 or www.telecharge.com. Casting by Pat McCorkle.