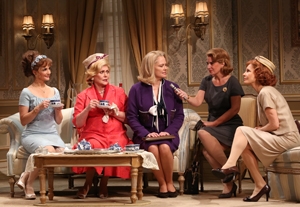 Director Michael Wilson's riveting production of
"Gore Vidal's The Best Man"
was one of the glories of the last Broadway season. Announced as a strictly limited engagement of just three months and a bit, the comedy-drama about an intraparty battle for the U.S. presidential nomination did well enough that lead producer Jeffrey Richards decided to extend the run by two months. This has required some recasting, with Elizabeth Ashley in for Angela Lansbury, Cybill Shepherd replacing Candice Bergen, John Stamos taking over for Eric McCormack, and Kristin Davis supplanting Kerry Butler. Also new to the company is Mark Blum, who arrived to pinch-hit for Michael McKean in June after McKean was hit by a cab on the Upper West Side and broke a leg. Has the show survived all the turnover? You bet.
Inevitably, balances have shifted, but the play remains terrifically entertaining and tremendously timely, despite being written and set in 1960. Like Lansbury, Ashley steals every second of her two scenes as Mrs. Sue-Ellen Gamadge, the formidable chair of the party's women's division, a part Ashley first played in Richards' 2000 Broadway revival of "The Best Man." Ashley's traditional-morals gadfly is less spiky and assertive than Lansbury's, taking cover in her deep-fried Southern charm and calculatedly addled self-presentation, but she's just as formidable and wickedly amusing.
Davis, as Mabel Cantwell, the Southern belle wife of a senator who's the party's conservative candidate, is a major improvement over Butler's shallow work, providing a satisfyingly dimensional portrait of this ditzy-as-a-fox doll with a lust for power that matches her husband's. Davis shares a convincing chemistry with Stamos, whose self-righteous Senator Joe (it can't be a coincidence) is less unctuous than McCormack's in his practiced insincerity, filled instead with a striking pugnacity and ultimately equally hollow.
Shepherd, an accomplished film and TV performer with almost no stage experience, proves that she can hold her own on the boards but hasn't yet found the complexity that Bergen did in Alice Russell, the estranged, long-suffering wife of liberal candidate and hound dog William Russell, the former secretary of state. Nevertheless, Shepherd looks great and fills in the basic contours of the part satisfactorily. I imagine she will grow over the run, especially when this fine light comedian gets more confident of where her laughs are.
The large supporting cast has kept in tiptop shape, with Dakin Matthews as a Southern party hack and Jefferson Mays as a vengeful army buddy of Cantwell's again the standouts. Still leading the company are James Earl Jones, as the gleefully common former president Artie Hockstader, and John Larroquette, as the ironic intellectual Russell. Both men have only gotten better—richer, sharper, funnier—giving absolutely-not-to-be-missed performances. Larroquette also benefits from his contrast with Blum, playing Russell's campaign manager. (Like Ashley, Blum did his role in the 2000 production.) McKean, though quite successful in the part, often seemed a bit like a reluctantly enabling older brother. Blum's world-weary, battle-scarred pol is more clearly a frustrated handler.
We lost a colossal talent when Vidal died July 31 at 86. At least he got to go out with a big, fat hit. Make it a point to catch "The Best Man" and pay tribute to a great American.
Presented by Jeffrey Richards, Jerry Frankel, Infinity Stages, Universal Pictures Stage Productions, Barbara Manocherian/Michael Palitz, Kathleen K. Johnson, Andy Sandberg, Ken Mahoney/the Broadway Consortium, Fifty Church Street Productions, Larry Hirschhorn/Bennu Productions, Patty Baker, Paul Boskind and Martian Entertainment, Wendy Federman, Mark S. Golub & David S. Golub, Cricket Hooper Jiranek, Stewart F. Lane and Bonnie Comley, Carl Moellenberg, Harold Thau, and Will Trice at the Gerald Schoenfeld Theatre, 236 W. 45th St., NYC. Aug. 5–Sept. 9. Tue. and Thu., 7 p.m.; Wed., 7:30 p.m.; Fri. and Sat., 8 p.m.; Wed. and Sat., 2 p.m.; Sun., 3 p.m. (212) 239-6200, (800) 432-7250, or www.telecharge.com. Casting by Telsey + Company/Will Cantler.