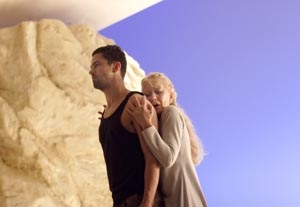 An exciting synthesis of theater and film,
Phèdre
is the first presentation of NT Live: a high-definition broadcast of a live performance by London's National Theatre to movie screens around the world. Well, here in America it wasn't actually live (London is several hours ahead of us) but the premiere screening of a recorded performance seen live a few hours earlier by British and European audiences. The Metropolitan Opera has been doing the same thing for three seasons, with artist interviews and mini-documentaries during the intermissions.
NT Live employs a similar format: Before the show, Jeremy Irons awkwardly interviews the production's director, Nicholas Hytner, on the theater's terrace overlooking the Thames, followed by Hytner, cast members, and set designer Bob Crowley briefly discussing their contributions and their thoughts on Jean Racine's classic tragedy. Hytner says the actors were instructed not to tone down their performances for the camera, because the crystal-clear picture will allow the audience to accept the heightened theatrical acting in a movie theatre. And he's right: It does feel as though you're watching a stage performance rather than a film, so cinematic naturalism is unnecessary. Robin Lough, director of the broadcast, skillfully uses multiple cameras to provide a variety of shots on Crowley's minimalist rock-strewn set.
Kitchen-sink realism would be totally out of place in this world of gods and monsters. Employing Ted Hughes' muscular adaptation, this smoldering tale of erotic obsession reaches out of the screen and shakes you till your teeth rattle. The main shaker is Helen Mirren, as the titular queen devoured by her illicit passion for her stepson, the haughty Hippolytus. Mirren delivers a mad merry-go-round of emotions, from lust bordering on illness to enraged jealousy to resigned degradation when she has lost her love, her throne, and finally her life. It's a spectacular theatrical performance that registers as truthful despite the confines of the screen.
Dominic Cooper gives Hippolytus the right mixture of arrogant pride and steamy sensuality. Veteran character actor Margaret Tyzack is all icy calculation as Oenone, Phèdre's nurse and co-conspirator. Ruth Negga, Chipo Chung, Wendy Morgan, and Stanley Townsend also deliver powerful turns. Only John Shrapnel as Théramène, Hippolytus' mentor, falls victim to overplaying, in his climactic monologue describing the grisly fate of his young charge.
At the curtain call, the audience in the movie theater applauded wildly, even though the actors weren't there to hear them. This bodes well for the future of NT Live, which will present three more plays this season: Shakespeare's
All's Well That Ends Well
in October;
Nation
, based on Terry Pratchett's novel, in January; and
The Habit of Art
, Alan Bennett's new play, in early 2010. If this venture succeeds, perhaps some daring American regional theater will try a similar stage-to-screen program, or maybe several theaters could collaborate, along the lines of the old
Theater in America
series on PBS in the 1970s. Then we would have a truly national theater.
Presented by NT LiveRemaining performances in New York City area
:
Mon
.,
July 6, Film Society of Lincoln Center, Walter Reade Theater, 165 W. 65 St
.,
NYC, 4 and 8 p.m
.;
Wed
.,
July 8, City Cinemas 1, 2, and 3, 1001 Third Ave
.,
NYC, 7:30 p.m
.;
and Thu
.,
July 9, BAM Rose Cinemas, 30 Lafayette Ave
.,
Brooklyn, 7 p.m
.
Remaining performances in California
:
Tue. June 30, and Thu., July 2, Elmwood Rialto Cinemas, 2966 College Ave
.,
Berkeley, 7 p.m
.
www.nationaltheatre.org.uk