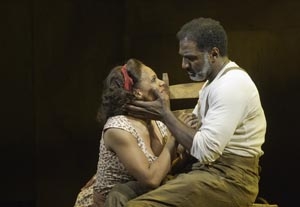 I have loved George Gershwin, Dubose Heyward, and Ira Gershwin's 1935 opera "Porgy and Bess" for about 40 years. The 1976 Houston Grand Opera production, which I saw on Broadway, remains one of my supreme theatergoing experiences. Although the show has been successfully presented as a musical in the past (by Broadway producer Cheryl Crawford in 1942 and film producer Samuel Goldwyn in 1959), it has never been comfortable as one. And in this romanticized, politically correct revision (it is much more than a mere "adaptation") by author Suzan-Lori Parks, composer Diedre L. Murray, and director Diane Paulus, it has been cheapened as never before.
Star Audra McDonald has stated publicly that she would not consider playing the part of Bess as originally written, which probably explains why the show's spine is now Bess' newly created journey from self-loathing drug-addicted slattern to feminist heroine. Parks, Murray, and Paulus do their best to support her with textual edits and additions, radically new arrangements and orchestrations (the latter by William David Brohn and Christopher Jahnke), and altered dramatic intentions for songs, but they don't have the freedom to make the big changes necessary. McDonald—perhaps our finest musical theater actor, whose work I have never disliked before—tries to will her vision of the character into being through busy acting, a profligate use of subtext, and a prominent scar on her upstage cheek, but it ain't on the page so it ain't on the stage.
The refocusing changes librettist and co-lyricist Heyward's climax. It's no longer Porgy's decision, expressed in the soaring finale "I'm on My Way," to follow Bess to New York City and rescue her from the clutches of drug dealer and would-be pimp Sporting Life. That's still there, but it seems to embarrass the adapters, who considerably undermine it. Their climax is Bess' decision whether or not to abandon Porgy and go to New York, which McDonald is forced to enact in an unfortunate extended silent pantomime because there is no one to write the aria the new moment demands.
There have also been changes to the crippled Porgy's character, intended to make him into more of a manly, self-confident hero. It's not so much that he walks with a cane and wears a brace, instead of getting about on a cart drawn by a goat. It's that he's much more worldly (this is a Porgy who knows where New York City is and probably the train schedule as well) and less imbued with religious faith. He's also now something of an action hero, fighting furiously with the police when they manhandle Bess and ludicrously attempting to walk out in a hurricane to save the anguished Clara, who has rushed heedlessly into the storm to find her missing husband, Jake.
Norm Lewis, as Porgy, is the show's saving grace, singing powerfully and playing with a simplicity and quiet intensity that only make McDonald's work seem more artificial. The supporting cast is a mixed bag, with Nikki Renée Daniels' charming Clara, Joshua Henry's boyish Jake, and Phillip Boykin's glowering Crown—Bess' abusive lover—coming off best. NaTasha Yvette Williams' Mariah, the matriarch of Catfish Row, is too cute, especially in the contemptuous "I Hates Your Strutting Style," and Bryonha Marie Parham, as the suddenly widowed Serena, fills the searing "My Man's Gone Now" with awkward indicating rather than honest emotion. David Alan Grier is a middling Sporting Life who sings "There's a Boat That's Leaving Soon for New York" like his big number rather than an insidiously evil temptation.
Paulus' direction generally fails to find compelling emotional connections among the characters. In Murray's quest to drain the opera out of the music, she also drains George Gershwin's voice. Ronald K. Brown's perfunctory choreography is excessively fond of inappropriate unison movement. Riccardo Hernandez's unprepossessing set is atmosphere-free, a problem Christopher Akerlind's lighting can't ameliorate, and ESosa's costumes are too clean and pretty for a poverty-stricken Depression-era South Carolina coastal community. Acme Sound Partners make the acoustic score sound canned.
I was introduced to the property as a boy by the significantly compromised film in a chopped-up commercial-TV airing. Here's hoping that this latest bastardization at least serves as a gateway for others unfamiliar with this glorious American masterpiece.
Presented by Jeffrey Richards, Jerry Frankel, Rebecca Gold, Howard Kagan, Cheryl Wisenfeld/Brunish Trinchero/Meredith Lucio TBC, Joseph and Matthew Deitch, Mark S. Golub and David S. Golub, Terry Schnuck, Freitag Productions/Koenigsberg Filerman, the Leonore S. Gershwin 1987 Trust, Universal Pictures Stage Productions, Judith Resnick, Tulchin/Bartner/ATG, Paper Boy Productions, Alden Badway, Broadway Across America, Christopher Hart, Irene Gandy, and Will Trice at the Richard Rodgers Theatre, 226 W. 46th St., NYC. Jan. 12–Sept. 30. Tue., 7 p.m.; Wed. – Sat., 8 p.m.; Wed. and Sat., 2 p.m.; Sun., 3 p.m. (866) 448-7849 or www.ticketmaster.com. Casting by Telsey + Company.