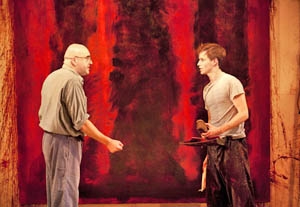 There's barely a cliché left unturned in John Logan's "Red," a two-hander about the late-in-life creative struggles of artist Mark Rothko, arriving direct from London's Donmar Warehouse. Though it's served to a hi-fi fare-thee-well by director Michael Grandage and actors Alfred Molina and Eddie Redmayne (who won an Olivier Award for his supporting performance), all their efforts can't disguise the fact that this is a prime example of theater of the exclamation point.
The play begins with the arrival in Rothko's studio of the quiet Ken, a young would-be painter who is to assist Rothko as he creates a series of paintings intended to hang in the Four Seasons, an upscale Manhattan restaurant in the new Seagram Building—an unusual commission for this ferocious defender of artistic integrity. Ken listens as the abusive Rothko rails and pontificates about art history, his contemporaries, the next generation, the stupidity and ignorance of people, the corruption of commercial success, and anything else that comes to mind. There is the inevitable vicious explosion at the young man that prompts a response leading to Rothko's re-evaluation of him. After the two men bond a bit—in a grandly theatrical sequence in which they prime a large canvas with an undercoat of red paint as classical music blares—the past tragedy that makes Ken a potential artist is revealed. Next comes the moment when the upstart attacks the legend over his scurrilous behavior and abandonment of principles. The predictably sentimental ending, of the "I'm hurting you for your own good" variety, shows how much the grand old man really cares.
Though Logan specifies that the play takes place across two years, he is unspecific as to which two, undoubtedly because he has conflated the Four Seasons story, which happened in 1958, with the emergence of artists like Andy Warhol and Roy Lichtenstein as part of the Pop Art movement, which didn't really commence until 1962. Logan needs something we can easily reference for Rothko to both rail against and fear. Unfortunately, the mix-and-match approach is emblematic of the script's reductive shortcomings, whether with regard to facts or character.
Molina throws himself into the role with abandon and never shrinks from Rothko's defiantly unlikable persona. The actor, who can focus an audience with the flick of a finger, starts at top volume and pretty much stays there. It's definitely impressive but not particularly conducive to the revelation of character. Redmayne proves an effective foil, though he overuses a tic involving a break in his voice. It's mostly a reactive role, but Redmayne works hard to suggest mysteries beneath a careful surface, and he rises to the required heights when Ken finally turns.
Christopher Oram's impressive set is apparently a virtual replication of Rothko's hermetically sealed industrial studio—the artist hated natural light—but his costumes seem to ape Logan's time-fudging in a lack of specificity. Neil Austin's lights make us see the Rothko paintings in myriad ways, while composer and sound designer Adam Cork provides a musical soundtrack of gaudy grandiosity.
"Red" was a great success in London, and there's every chance it will be here as well, stuffed as it is with crowd-pleasing theatrics. But as Rothko himself would be the first to say, that's hardly indicative of its inherent quality.

Presented by Arielle Tepper Madover, Stephanie P. McClelland, Matthew Byam Shaw, Neal Street Productions, Fox Theatricals, Ruth Hendel/Barbara Whitman, Philip Hageman/Murray Rosenthal, and the Donmar Warehouse at the Golden Theatre, 252 W. 45th St., NYC. April 1–June 27. Tue., 7 p.m.; Wed.–Sat., 8 p.m.; Wed. and Sat., 2 p.m.; Sun., 3 p.m. (212) 239-6200, (800) 432-7250, or www.telecharge.com. Casting by Anne McNulty.