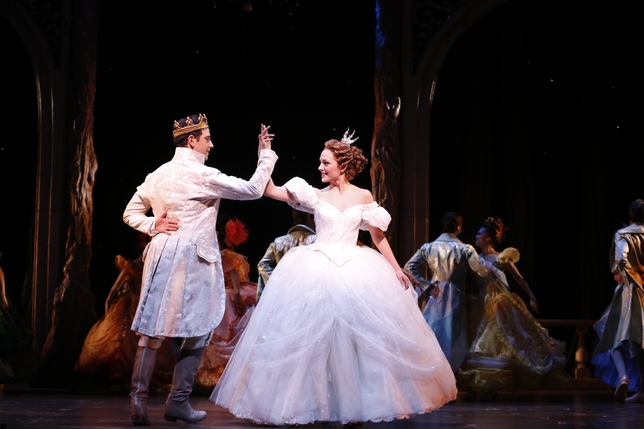 There are moments of theatrical magic strewn throughout Douglas Carter Beane's new adaptation of Richard Rodgers and Oscar Hammerstein II's 1957 TV musical "Cinderella." Unfortunately, they have little to do with Beane's ambitious but ungainly rewrite, which creates a musical at war with itself, failing to fuse snarky one-liners and self-consciously with-it anachronisms with the romanticism of the source material. Despite three sterling performances and the timeless songs, lovelier than ever in Danny Troob's gorgeous orchestrations, the show never comes together in a satisfying way.
Beane subverts a number of classic moments of the fairy tale, changing the loss of the glass slipper, making one of the stepsisters sympathetic, and removing all trace of love at first sight. The prince is now an uncertain orphan guided by his regent, the evil Sebastian, who has been designated to run the kingdom until the royal lad reaches manhood. A subplot about a revolution, led by peasant firebrand Jean-Michel, who loves the nice stepsister, contributes little and takes up far too much stage time. You can almost feel Beane ticking off the moral lessons he wants to teach about self-actualization, bullying, female empowerment, and group problem-solving, among others. It's all too effortful for its own good.
Another problem is that glorious score. To effect changes of this magnitude new songs are needed, to establish character and further plot. As they don't exist, Beane has raided the R&H trunk, which doesn't help much, and created snippets of song—with new, inferior lyrics by Beane and music supervisor David Chase—that can't do the heavy lifting required. These annoyingly bitty passages paradoxically dilute the production's strongest asset; when 16 bars of "One Foot, Other Foot," from "Allegro," showed up in the middle of "There's Music in You," my heart sank. Beane also shoehorns old tunes into inappropriate new slots. Trying to make "Do I Love You Because You're Beautiful?," a song that questions love, into one that declares it is a fool's errand.
Director Mark Brokaw seems ill at ease with a musical, particularly when allowing Josh Rhodes' uneven dances and a forced and unfunny chase sequence to go on excessively. Fortunately, the chemistry between Laura Osnes' enchanting Cinderella and Santino Fontana's charming-as-hell self-questioning prince is electric, and both sing well. Peter Bartlett's regent and Harriet Harris' stepmother get the lion's share of the caustic humor, but they turn in subdued performances because their material isn't great. Ditto for Ann Harada and Marla Mindelle's stepsisters and Greg Hildreth's revolutionary. Victoria Clark's unflappable fairy godmother is the glory of the night. Clark and her crystalline soprano bring the house down with both of her numbers, the aforementioned "Music," a solo, and "Impossible," a duet with Cinderella. The latter benefits enormously from deliberately low-tech legerdemain and simple but inventive staging that combine with Anna Louizos' handsome set, William Ivey Long's sumptuous costumes, and Kenneth Posner's ethereal lighting to breathtaking effect.
Of course, young girls don't care about dramaturgy, so it's possible that "Cinderella" may get by on its music, romance, and dazzle. Beane's reach, however, has definitely exceeded his grasp.
Presented by Robyn Goodman, Jill Furman, Stephen Kocis, Edward Walson, Venetian Glass Productions, the Araca Group, Luigi Caiola and Rose Caiola, Roy Furman, Walt Grossman, Peter May/Sanford Robertson, Glass Slipper Productions/Eric Schmidt, Ted Liebowitz/James Spry, and Blanket Fort Productions, in association with Center Theatre Group, at the Broadway Theatre, 1681 Broadway, NYC. Opened March 3 for an open run. (212) 239-6200, (800) 447-7400, or www.telecharge.com. Casting by Cindy Tolan and Adam Caldwell.
Critic's Score: C+