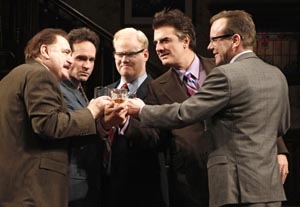 In Joseph Papp's introduction to the published script of Jason Miller's "That Championship Season," he repeatedly mentions his hesitation to produce the play due to dramaturgical concerns. That intro, of course, has a happy ending: Miller's revisions resulted in Pulitzer, New York Drama Critics' Circle, and Tony awards for best play, as well as a big Broadway hit. Nearly 40 years later, however, the show's first Broadway revival proves that Papp was right to be concerned. No longer riding the Zeitgeist fed by the societal upheavals of the late 1960s and early 1970s (there's a reason why the show's original logo was a parody of a Norman Rockwell Saturday Evening Post cover), "Season" now stands or falls on the strength of its script. Unfortunately, what emerges is a thinly written, awkwardly constructed melodrama.
"Somewhere in the Lackawanna Valley," as the program coyly puts it, four members of the 1952 Pennsylvania state high school championship basketball team have reassembled at their coach's house for their annual reunion. Hapless George is now the town mayor; hot-blooded Italian Phil is rich from his strip-mining business; obedient James is the junior high school principal and George's campaign manager; and James' younger brother, the cynical Tom, who missed the last several get-togethers, is a not-so-functioning jobless alcoholic. Coach, who in keeping with Miller's penchant for the portentous isn't given a name, is a domineering hard-right-wing bigot who casually uses words like "kike" and "nigger" and remembers Joseph McCarthy and Father Coughlin with love. Missing is the fifth player, Martin, who has never attended.
As the whiskey flows copiously, agendas emerge, loyalties shred, and more than one back sports a knife. Driving the shenanigans is George's re-election campaign. He's up against a young and charismatic Jewish candidate, and Phil, who is his bankroll, doesn't think he can win. Before the night is over, of course, Coach will have molded his charges back into a team, however damaged, and the reason for Martin's absence will be revealed.
Gregory Mosher's low-key direction treats the play as if it's a masterpiece, which doesn't help, though there's probably not much he could have done to mitigate all the sledgehammer dialogue, abrupt revelations, and gerrymandered outcomes. At least he's assembled, with one exception, a strong cast that works hard to give complexity to the largely one-note roles. Kiefer Sutherland finds a surprisingly volcanic core for the resentfully responsible James while never obscuring the man's ordinariness. Jason Patric, as Tom, lobs his inebriated zingers from the sidelines with faultless timing and intriguingly feminine physical gestures while projecting a visceral, mysterious sense of self-hatred. Chris Noth swaggers and glad-hands effectively as Phil, though the fit, sexy actor can't supply the seedy Lothario aspect of the character. Brian Cox accentuates the self-congratulatory sentimentality of Coach, suggesting an interesting softness at the center of this brusque authoritarian. Only Jim Gaffigan, as George, is unsuccessful. Gaffigan hits all the right notes, but his work is all on the surface, unsupported by convincing emotional depth. When George suddenly points a loaded hair-trigger rifle at Phil, upon discovering that Phil's been having an affair with his wife, we don't believe for one second that he's actually going to shoot, though we should.
Michael Yeargan's grand but musty, museumlike living-room set is absolutely right, as are Jane Greenwood's character-defining period costumes and Peter Kaczorowski's appropriately unforgiving lighting. This is a play, after all, that wants to lay its characters' self-deluded myths bare. Unfortunately, when a playwright indulges in such obvious, over-the-top symbolism as having George throw up into the urn of the team's sacred silver trophy, it's a good bet that what he means to lay bare is probably already glaringly apparent. 
Presented by Robert Cole, Frederick Zollo, Shelter Island Enterprises, the Shubert Organization, James MacGilvray, Orin Wolfe, the Weinstein Company, Second Chance Productions, Brannon Wiles, and Scott M. Delman/Lucky VIII at the Bernard B. Jacobs Theatre, 242 W. 45th St., NYC. March 6–May 29. Tue., 7 p.m.; Wed.–Sat., 8 p.m.; Wed. and Sat., 2 p.m.; Sun., 3 p.m. (212) 239-6200, (800) 432-7250, or www.telecharge.com. Casting by Cindy Tolan.