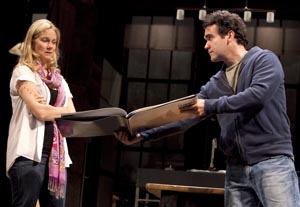 It's always refreshing to see a new American play on a serious subject in a commercial run on Broadway. Such attractions happen so rarely that just the thought of one gets me excited. "Time Stands Still," Donald Margulies' perceptive drama about a photojournalist and her reporter lover attempting to start a "normal" life together after she has been injured in the Middle East, is not exactly new. It had a successful engagement last season as part of Manhattan Theatre Club's series at Broadway's Friedman Theatre. It featured four big names and got mostly positive press. So now, after recasting one role with an equally big name, a gaggle of producers is attempting a for-profit stand at the Cort. Will "Time" stand the test of the box office?
That's a tough one. Margulies' script is smart and brave, tackling the difficult topic of how the media covers war while it also examines the complex relationship between photographer Sarah and writer James. But, as my colleague Erik Haagensen pointed out in his review of the Friedman engagement, the playwright doesn't go deep enough beneath the surface of the characters. Despite James' yearning for a safe stateside marriage, Sarah is addicted to the adrenaline rush of war zones. Margulies never really explains Sarah's obsession to return in spite of her injury or what has held this mismatched pair together for so long.
In addition, there are too many easy laughs at the expense of Mandy, the somewhat ditsy young girlfriend of Richard, Sarah and James' editor. Margulies also pokes glib fun at guilty liberals who alleviate their concern over problems abroad by attending plays about them. Will enough Broadway theatergoers pay more than $100 to laugh at themselves?
Despite these flaws, there is much to recommend this production, principally the strong cast. As the tough Sarah, Laura Linney fills in the blanks Margulies has left. Linney demonstrates why she is one of our finest actors as she conveys this woman's steely determination and her fragile interior when her rough shell cracks. Brian d'Arcy James takes us deeper into James' passion to lead an uncomplicated life. Likewise, Eric Bogosian has found more shadings in Richard's conflict over the high-powered world of his friends versus the simpler pleasures offered by a union with Mandy. As that somewhat simplistic character, Christina Ricci is the new addition to the company, and she is as delightful as her predecessor, Alicia Silverstone. In an impressive Broadway debut, Ricci never condescends to Mandy, giving her a strength and wit that belie her years.
Daniel Sullivan's masterful direction holds up, as does the production design by John Lee Beatty (sets), Rita Ryack (costumes), and Peter Kaczorowski (lighting). Hopefully, "Time Stands Still" will run for a while, if only to convince other producers that serious American drama deserves a chance on Broadway.  
Presented by MTC Productions, Nelle Nugent, Bud Martin, Wendy Federman, Ted Snowdon, Max Cooper, Susanne Adamski, Mari Nakachi, and Elisabeth Morten/Sharon A. Carr, in association with Jack M. Dalgleish and Joseph Sirola, at the Cort Theatre, 138 W. 48th St., NYC.Oct. 7–Jan. 30. Tue., 7 p.m.; Wed.–Sat., 8 p.m.; Wed. and Sat., 2 p.m.; Sun., 3 p.m. (212) 239-6200, (800) 432-7250, or www.telecharge.com. Casting by Nancy Piccione.