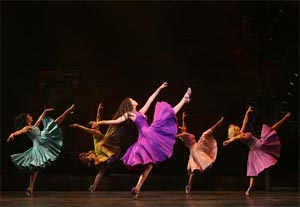 It happened for me during "America." I forgot I was sitting in a Broadway theatre watching professional actors in a revival of
West Side Story
. I was spying on a group of high-spirited girls kidding each other about living in New York after enduring the poverty of their native Puerto Rico. They weren't executing Jerome Robbins' classic choreography, as re-created by Joey McKneely, on James Youmans' darkly evocative ghetto set; they were flouncing their skirts, jumping on stoops, and inhabiting a specific place and time. This authenticity is only partially due to the Spanish translation of many of the Latino scenes and two of the songs ("I Feel Pretty" and "A Boy Like That"), by Lin-Manuel Miranda of
In the Heights
fame. The scenes are so real that no English supertitles are required to convey their meaning.
An air of immediacy and spontaneity infuses all of Arthur Laurents' high-impact staging. He retains the original vibrancy of this street-gang
Romeo and Juliet
while giving it a harsh, jagged edge. Laurents, author of the book, has said he wanted to put danger back into the 1957 show, after too many productions (and the 1961 Oscar-winning film version) had made the rival Jets and Sharks seem too much like adorable musical-comedy versions of juvenile delinquents.
Just as he returned the sweat and sex to
Gypsy
last season, Laurents has made
West Side Story
once again fresh, alive, and, most important, scary. These Jets would cut the well-heeled audience as soon as look at them. Even "Gee, Officer Krupke," usually played for comic relief, is a scream of rage here. As Tony, the romantic hero, the 30-ish Matt Cavenaugh is a tad too long in the tooth and clean-cut to fit in with these baby piranhas. But his electric connection with the angelically voiced Josefina Scaglione as his Maria dismisses all caveats. The palpable attraction between them provides the spark that lights a conflagration of passions both joyful and destructive. Their love duets are sung nose to nose, bordering on the erotic.
But the performer who covers the broadest emotional spectrum is the blazing Karen Olivo as Anita. She goes from the satiric exuberance of "America" to scorching bitterness when her lover Bernardo is murdered. Then she ricochets to compassion for Maria during "I Have a Love," only to be driven to weeping fury during a brutally staged sexual assault by the Jets. It's a performance for which Tony Awards were made.
There's also Cody Green's rakish Riff, George Akram's determined Bernardo, Tro Shaw's equally tough and waifish Anybodys, Pamela Otterson's sassy Graziella, Greg Vinkler's tender Doc, and, in an intensely felt turn, Curtis Holbrook's explosive Action.
The Leonard Bernstein–Stephen Sondheim score is given a full-bodied treatment by music director and supervisor Patrick Vaccariello, employing the original orchestrations of Bernstein with Sid Ramin and Irwin Kostal. Though this
West Side Story
respects its origins, it's just as relevant and groundbreaking as the first production.
Presented by Kevin McCollum, James L. Nederlander, Jeffrey Seller, Terry Allen Kramer, Sander Jacobs, Roy Furman/Jill Furman Willis, Freddy DeMann, Robyn Goodman/Walt Grossman, Hal Luftig, Roy Miller, the Weinstein Company, and Broadway Across Americaat the Palace Theatre, 1564 Broadway, NYC
.
Opened March 19 for an open run. Tue
.,
7 p.m
.;
Wed
.–
Sat
.,
8 p.m
.;
Wed. and Sat
.,
2 p.m
.;
Sun
.,
3 p.m
. (
No performance Sun
.,
March 22
.)
(
212
)
307-4100 or www.ticketmaster.com
.
Casting by Howard/Schecter/Hardt
.