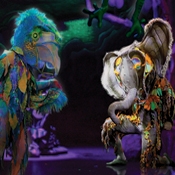 During the intermission of Cirque Dreams Jungle Fantasy, the gentleman in front of me leaned back and asked if I had ever been to Las Vegas. I replied in the affirmative, and he explained that the show we were watching was pure Vegas and therefore did not belong on Broadway. The patron did have a point about this elaborate circus -- not to be confused with the productions of Cirque du Soleil, to which it bears more than a passing resemblance. Cirque Dreams is suited to the light entertainment requirements of gambling casinos, with its colorful costumes and sets, impressive acts of skill and balance, and lack of story line. But that doesn't mean it's not appropriate for the Main Stem. If theatregoers are willing to plunk down their $100 or so and have a good time, expect to see more variety shows in the future. That's the reality of the marketplace. Let's just hope that producers continue to develop new musicals and plays along with the acrobats and contortionists.
The show itself is an enjoyable if somewhat tacky head trip through an anthropomorphic wilderness replete with juggling frogs, dancing emus, and body-twisting lizards. We are led through the fantasia by a hunky Everyman pulled from the audience named the Adventurer (Marcello Balestracci). Occasionally taking part in back flips, twirling giant shapes, or swinging out over the audience, he is guided from act to act by a violin-playing tree (Jared Burnett) and Mother Nature, depicted as a show-tune-singing temptress (Jill Diane). Balestracci makes for an engaging central figure, and Diane has a pleasant enough voice, but Jill Winters' songs tend to blend together after two hours. The international cast of circus performers exhibits extraordinary artistry and charisma. I particularly enjoyed the aerial ballet between a pair of attractive owls, a tricky balancing act by two giraffes, and the finale -- an acrobatic display by a pride of muscular lions.
Creator-director Neil Goldberg paces the action at an appropriately rapid clip; things only slow down for a short while in the second act when the animals engage in an unmotivated dance, functionally choreographed by Tara Jeanne Vallee. The design elements conform to my fellow theatregoer's Vegas criticism: too glitzy and too much. The costumes, by Cirque Productions, Lenora Taylor, and Santiago Rojo, are well-constructed but have so many clashing colors and fabrics that they distract from the acts. Likewise, Jon Craine's red-hued jungle set is so busy that it's hard to focus on the action. Kate Johnston's dim lighting doesn't help.
But for all its Vegas sensibilities, Cirque Dreams is a fun show. Though not as imaginative as the Cirque du Soleil shows I've seen, it's still a pleasant diversion for a summer evening.
Presented by A+ Theatricals, Broadway Across America, Cirque Productions, Adam Troy Epstein, Fox Associates, New Space Entertainment, Albert Nocciolino, Providence Performing Arts Center, and Theatre League
at the Broadway Theatre, 1681 Broadway, NYC.
June 26-Aug. 24. Mon., Thu.-Sat., 8 p.m.; Tue. and Sun., 7 p.m.; Sat. and Sun., 2 p.m.
(212) 239-6200 or (800) 432-7250 or www.telecharge.com.