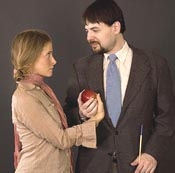 At almost two hours, Daguerreotypes is a punishingly long time to sit in the Where Eagles Dare Theatre's wicker seats and unfortunately not quite worth the red lines your skin will accrue. Playwright Elisa Abatsis has crammed in too many thorny plots and endless set changes, resulting in an unfocused new work that never realizes its potential.
Chase (Jared Morgenstern) and Henry (Alfred Gingold) are photographers of dead babies who find themselves dealing with women from their past in the form of a mother-daughter juggernaut: actor Darcy (Lynn Spencer, hard to hear even in the fourth row) and her artist daughter Gemma (Storm Garner). Along the way, Gemma deals with her recent breakdown, Chase reveals his jaw-dropping high-school plan, and a pregnant woman debates an abortion. Nothing quite gels, and Abatsis would do well to choose one story to flesh out. But Morgenstern is never less than compulsively watchable, even when Chase reveals his most disturbing secret to Gemma.
Presented by Shoes for Royalty as part of the Midtown International Theatre Festival at Where Eagles Dare Theatre, 347 W. 36th St., NYC. July 15-Aug. 1. Remaining performances: Sat., July 19, 3:30 p.m.; Thu., July 24, 8:30 p.m.; Sun., July 27, 5:15 p.m.; Mon., July 28, 6 p.m.; Fri., Aug. 1, 8 p.m. (212) 279-4200 or www.ticketcentral.com.