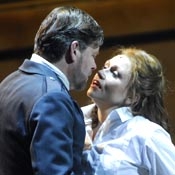 The sensation of being brought before a firing squad escalates as the seats in the Park Avenue Armory glide forward on moveable tracks at the opening of Bernd Alois Zimmermann's Die Soldaten. A persistent drum seems to simulate a nervously jumping heartbeat, eerily audible — and palpable — as the onslaught of a 110-person orchestra permeates Drill Hall. Without question, Zimmermann's concept of incorporating architecture into opera makes for powerful theatre. The Lincoln Center Festival deserves credit for mounting this formidable, rarely performed opera — at its 1958 inception it was deemed impossible — and the armory serves it well.
The usual disconnect between singers and viewers evaporates as the audience literally follows the movements and story of Marie, a young woman who trades love for soldiers' affections to improve her social standing. The soldiers use her and discard her as a whore, bringing about her downfall and that of her fiancĂŠ, Stolzius. The plot is based on Jakob Michael Reinhold Lenz's 18th-century play of the same name and unfolds on a T-shaped stage in front of and in the middle of the seats.
Throughout the action, the orchestra plays alongside the audience, giving new meaning to the phrase surround sound. Dread fills the 630,000-square-foot space as brass and winds shriek vehemently, percussion releases volleys, and stringed instruments squirm at their highest pitches, with glints of jazz, older opera, and baroque music emerging from the mass.
It can be argued that Die Soldaten succeeds mainly through shock value. In addition to bombarding the audience with often-earsplitting sound, including screams, Zimmermann demands that Marie be raped on stage. In this production, taken from Germany's RuhrTriennale, the scene is particularly gruesome. Three men dressed as Santa Claus attack visions of Marie, tearing her dress off. Later, Desportes, the first soldier Marie pursues, claims that she only wanted his "presents" and that he encouraged his gamekeeper to assault her.
To further the terror, Zimmermann also requests a film sequence, including a shot of Hiroshima. Seeing the clips as dated, the Ruhr production eliminates them. But Die Soldaten remains constrained by its time. The opera relies heavily on the then-popular technique of 12-tone composition, which requires that no note be repeated until all pitches in a scale have been used. Character almost becomes obscured, singers hiccupping high notes mid-phrase to follow the pattern. Goals more complex than creating a bleak or raucous atmosphere — how to depict the state of a countess whose son has spurned Marie — can go unrealized. A ubiquitous debt to Alban Berg also detracts from Zimmermann's innovations.
Still, director David Pountney's sense of when to play to Zimmermann's over-the-top sensibilities (brash soldiers' gatherings) and when to freeze the action (a broken Rosenkavalier trio involving Marie, her sister Charlotte, and the countess) highlights the central tension between the soldiers' world and its mostly passive victims and emphasizes that the opera is more than a horrifying thrill.
To get through such a dense, complex score is an incredible accomplishment for the singers, the orchestra, and especially conductor Steven Sloane. It is no less than awe-inspiring to perform the work as confidently and musically as the cast does, particularly the indefatigable soprano Claudia Barainsky as Marie; Johann Tilli as her father, Wesener; Kathryn Harries as Stolzius' mother, and the rich-voiced Andreas Conrad as the young count.
Presented by Lincoln Center as part of Lincoln Center Festival 08 at the Park Avenue Armory, 643 Park Ave., NYC. July 5-12. Mon., Wed., Fri., and Sat., 8 p.m. (212) 721-6500 or www.lincolncenter.org.