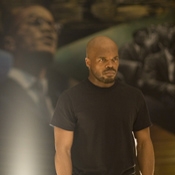 It's not strange that the South's "peculiar institution" should stir up violence. Yet seeing the reservoirs of rage tapped so effectively in the Classical Theatre of Harlem's production of Ty Jones' new play Emancipation makes me wonder why so few depictions of slavery focus on the bitter bloodshed it engendered. Most of our stories about this shameful stretch of American history are tales of heroism or forbearance: We share the agony of the suffering slave; we laud the abolitionist. In the process, we forget that the oppressed always have a choice between fighting back (albeit with dire personal consequence) or internalizing their anguish. Why, though, do we neglect the overwhelming frustration that millions of Americans endured as daily fact? Is it because we might be reminded that anger so potent doesn't vanish overnight?
Jones provokes these questions in an exploration of Nat Turner's 1831 slave rebellion that is not content to serve as an illustrated history book. Assuming the role of Turner, Jones shows us an educated firebrand, equally comfortable in the role of Bible thumper and executioner. The men who follow him have reasons (beyond the most basic) for revenge, and in one of the play's many captivating sequences, we see how pain, camaraderie, and liquor can mix into a lethal cocktail. But no simple equation explains Turner's laser-beam focus, the cool with which he orders the slaughter of men, women, even children. Maybe he's cracked. Maybe he's pushing an issue that can only be moved by sheer brutality.
The play's Caucasian characters touch both ends of the white spectrum — guilty and unrepentant — at the extreme edges. One moment a man spits, repeatedly and to gasp-inducing effect, in Turner's face; the next, another pleads with Turner for a chance to understand exactly what he was thinking. Neither gets what he wants.
Director Christopher McElreon's handsome production brings out the bold strokes of Jones' script. Across set designer Troy Hourie's elegant woodwork in the round, McElreon unfolds a fluid mix of movement and a cappella music (supervised by Lelund Durond Thompson) punctuated by shocking blasts of noise and violence. Much of the play's undeniable power comes from such juxtapositions, as when a slave recounts a small act of defiance that finally provides him with a sense of freedom — and also earns him a bullet wound. Turner himself was ultimately hung for his efforts. Is the play's title then ironic, with freedom illusory or at best fleeting? I'm not sure, but I'd rather watch Jones raise these questions than settle in for yet another prepackaged tale of suffering and sainthood.
Presented by the Classical Theatre of Harlem in association with the Malcolm X & Dr. Betty Shabazz Memorial and Educational Center
at the Malcolm X & Dr. Betty Shabazz Memorial and Educational Center, 3490 Broadway, NYC.
April 17-May 3. Wed.-Sat., 7:30 p.m.; Sun., 3 p.m.
(212) 868-4444 or www.smarttix.com.