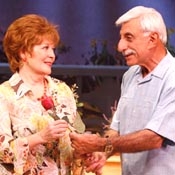 Comprising three one-acts about the geriatric inhabitants of a Florida apartment complex, Flamingo Court is served up as unabashed catnip for the senior crowd. Playwright Luigi Creatore, a record producer and songwriter who collaborated on such hits as "The Lion Sleeps Tonight," developed the show from material he wrote for the Boca Raton Community Theatre. His writing can hardly be accused of having finesse or nuance, but, judging from the plentiful guffaws at the performance reviewed, he knows his target audience well. Directed with stay-awake pace by Steven Yuhasz, the scripts also provide workmanlike showcases for the talents of the two stars, Jamie Farr and Anita Gillette, as uninhibited farceurs.
The opening play builds nicely on a wacky premise. To keep up appearances, Angelina, a Brooklyn widow transplanted to Florida, has pretended for two years that her husband, Fred, is still alive, an unseen invalid ensconced in the bedroom. Her ruse runs into trouble when Dominic, a neighbor, falls madly in love with her and begins to think about murdering Fred. Farr imbues Dominic with convincing comic ardor, while Gillette is totally delicious as a Brooklyn-twanged kewpie doll whom age cannot wither.
The mood turns grimly and somewhat uncomfortably serious in the shorter second piece as a man prepares to send his failing wife to a nursing home. But Farr and Gillette give it affecting performances.
Rest assured, however, comedy returns in the third section — and broadly so. It's a rickety story telling how 89-year-old Harry plots revenge from the grave against his avaricious daughter. The gags cover topics ranging from such old-folk concerns as hearing aids to that universal crowd pleaser, flatulence. Farr's doddering Harry is a cartoon character come gleefully to life, while Gillette plays a hooker serving the "cholesterol crowd" with grand blowsy brio.
The show has been solidly mounted, with a handsome and versatile set by James Youmans, Florida-bright costumes by Carol Sherry, and an able supporting cast including Lucy Martin, Herbert Rubens, and Joe Vincent.
Presented by Theatre 21 and Carolyn Rossi Copeland at New World Stages, 340 W. 50th St., NYC. July 31-Sept. 28. Mon., Wed.-Sat., 8 p.m.; Wed. and Sat., 2 p.m.; Sun., 3 p.m. (212) 239-6200 or (800) 432-7250 or www.telecharge.com. Casting by Mark Simon.