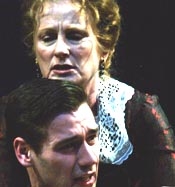 Breaching that razor-thin line between melodrama and tragedy is the undoing of the Pearl Theatre Company's revival of Henrik Ibsen's Ghosts (translated by Peter Watts). The play, a shocker in its time, is given a mostly pedestrian, conventional, straightforward rendering. Only occasionally does it rise to dramatic heights, as in the final scene between Mrs. Alving and her son, Osvald, who is dying of syphilis inherited from his dissolute father. The image of his mother, realizing the finality of his disease while cradling the blind Osvald, who, unable to see the rising sun, collapses on the couch, his mouth askew, babbling nonsense, is still a stunner. But the inevitability that brought him to this point, abetted by his mother's inability to follow her heart over her head, love over duty, is given short shrift.
Though the evening properly attends to clashes, these lack any trace of terror. When Pastor Manders, talking of what Mrs. Alving is reading, says, "There's nothing particularly new in these books," he may as well be talking of what we're seeing. Not that we're asking for a concept, but a revival should be more than a dutiful carbon copy, or else we'll be seeing nothing but fusty, musty reproductions. Granted, being true to the author's intent should be uppermost, yet the approach ought to be less tentative than it is here. This production even stints on the orphanage-destroying fire that climaxes what would be the second act. (At the Pearl, Acts 2 and 3 are combined.)
Under Regge Life's by-the-numbers direction, Joanne Camp plays Mrs. Alving as a sly, tight-lipped, keep-the-lid-on woman. She invests the character with a bottled-up sensuality that, thwarted in her relationship with the sanctimonious Manders, transfers itself to her son. What we don't see in her low-key performance is a growing sense of freedom and release. As Manders, Tom Galantich projects the character's prudery with a stylish sincerity. It's not his fault that his evangelism turns him into a figure of fun for an age (and an audience) that treats such beliefs with a healthy dose of ridicule. TJ Edwards does well as the conniving Engstrand, with Keiana Richàrd a saucy Regina, and John Behlmann a striking Osvald. With so much of Ghosts still relevant — its dissection of women's roles, of choice's consequences, of the limits of philanthropy, of the power of societal pressures, of moralistic hypocrisy — it's unfortunate that this production slights the play's significance.
Presented by and at the Pearl Theatre Company,
80 St. Marks Place, NYC.
March 9-30. Tue., 7 p.m.; Thu.-Sat, 8 p.m.; Wed., Sat., and Sun., 2 p.m.
(212) 598-9802 or www.pearltheatre.org.
Casting by Craig Evans.