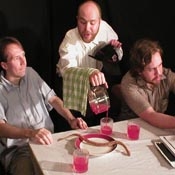 This is Back Stage's review of the show's original run in March 2008 as part of Frigid New York.
For half an hour, three men scrape, drum, and pound away at their kitchen table, using forks, fists, plates, Autoharp, cymbals, and water glasses. They proceed to argue the merits of torture, interrupting themselves and shifting the scenario every minute or so. Through precise delivery and the sheer force of their concept and subject material, the protagonists of this Nonsense Company production captivate their audience even as they disorient it.
Great Hymn of Thanksgiving, the first of these two compelling plays, consists of rumblings and drones of utensils and musical instruments overlaid with spot-on newscaster impressions, evoking mental clutter, distress, and fatigue. While not a one-note piece, it lasts slightly longer than it needs to. The second play, Conversation Storm, draws on the implicit message of the first—a comment on glib, meaningless political chatter and the loss of independent thought. Both plays are also spiked with intense shots of satire, including a hilarious skewering of foodie culture.
In Storm, three friends in a restaurant conduct a "thought experiment": If a time bomb were set to go off in half an hour in New York City, would you torture suspects? As Hugh, the insomniac, tortured liberal, and Alec, the pontificating, self-confident conservative, face off, each role-playing both the tortured and the torturer to make their points, their positions become increasingly unclear, while the apathetic Godfrey keeps trying to change the subject. Time and the fourth wall evaporate as Alec talks about writing the play we're watching, and Godfrey turns into a waiter. Each scene is announced, it's always five minutes to midnight, and as the characters grow increasingly panicked about the bomb, the hypothetical scenario begins to feel real.
Playwright and composer Rick Burkhardt, and actor-musicians Andy Gricevich and Ryan Higgins give thrilling performances. This is the San Francisco troupe's first time in New York, and the Nonsense Company is worth catching while you can.
Presented by the Nonsense Company
at the Interborough Repertory Theater, 154 Christopher St., 3B, NYC.
Feb. 5–15. Wed.–Sat., 8 p.m.; Sun., 3 p.m.
(212) 352-3101, (866) 811-4111, or Theater Mania.