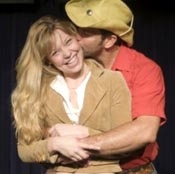 From the first moments of Heaven in Your Pocket, when Arlene Davis (Rebecca Spencer) appears in a spotlight and belabors a metaphor about changing lanes and taking detours through life, one begins hoping that at least the songs will be original. And indeed some of the songs in this musical about a singing group from Heaven, Okla., that gets sidetracked by an inherited roadhouse while on its way to Nashville are insistently catchy, but most of the book by Mark Houston, Francis J. Cullinan, and Dianne Sposito relies on heavy-handed Southern clichés. At some point we must call for a moratorium on the line "The higher the hair, the closer to God."
The performers are all solid, though they're done no favors by the confusing and dull script or the lagging, lackluster direction by Alan Souza. As Arlene's 25-year-old daughter, Kay Lee, Pheonix Vaughn overcomes hideous costuming in the first act to rock the stage in the second with the show's best song, "Long Gone," about loving the right man at the wrong time. And though Kay Lee dedicates it to her gay best friend, Billy (Mark Shock), instead of her estranged boyfriend Sam (Chuck Saculla), we still hold out hope that Heaven in Your Pocket might be adding a little subtlety to the proceedings. Alas, Kay Lee really does mean the song for Billy, and the interesting subtext we've conjured out of thin air disappears.
As for the rest of the plot, we've seen it all before. Coming across as a country-flavored take on Gypsy — there's even a climactic scene between Arlene and Kay Lee about why Arlene keeps pushing away everyone around her — Heaven in Your Pocket's performers' charm and verve just aren't strong enough to overcome the weak writing.
Presented by Emerging Artists Theatre as part of the New York Musical Theatre Festival at the 45th Street Theatre, 354 W. 45th St., NYC. Sept. 17-28. Remaining performances: Sat., Sept. 20, 8 p.m.; Sun., Sept. 21, 1 p.m.; Tue., Sept. 23, 4:30 p.m.; Sun., Sept. 28, 1 p.m. (212) 352-3101 or (866) 811-4111 or www.theatermania.com or www.nymf.org.