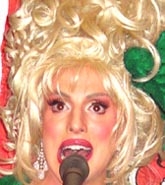 Some comedians get patrons laughing nonstop because they are, as Freud might have said, raw id. Steven Polito, who created and refined — if refined is the right word — Hedda Lettuce qualifies. Looking and sounding in outlandish wigs and busty outfits like the illegitimate child of Don Rickles and Joan Rivers, Polito makes a living saying what many of us might want to say in certain situations but would never bring ourselves to say.
Wearing seasonal green for this year's Christmas show, which, in one of his myriad puns, he calls Lettuce Rejoice, Polito — no, Hedda — stays on stage for an hour and a half and keeps the crowd howling, even when poking fun at one of them. If the above-mentioned Freud were in the audience looking to update his classic Wit and the Unconscious to include references to the origins of Polito's humor, Hedda would certainly mock the father of shrinkage for trying to outdo her in the big-hair department.
Because Hedda's Xmas show — make that XXX-mas show — is now an annual event, some of the material is familiar and some new. Waxing a bit ancient is the hunk of material about Hedda's family tree, which includes, among others, Bedda Lettuce, Shredda Lettuce, and Chinese adoptee Bok Choy. But those are the only few minutes during the 90-minuter that feel like vamping till ready. The parody of "Felice Navidad" with "Phylicia Rashad" substituted is still a hoot, and revelers in Hedda are happy to sing along. They're also giddy with glee to join in on plenty more. If Hedda instructs them to respond with obscene catch phrases, no one pouts and most everyone shouts.
New material this annus Hedda-bilis includes a disquisition on Hedda's recent Project Runway appearance, where the brazen dame was paired with one-name designer Suede — and designer rancor ensued. Hedda gives her side of a story that had her becoming the butt, so to speak, of a continuing series of in-jokes. Incidentally, Hedda calls Bravo host Heidi Klum "Heidi Dumb." In another fresh sequence, Brenda Lee's seasonal classic "Rockin' Around the Christmas Tree" (all music is on tape) becomes "Rockin' Around Sarah Palin's Tree."
Then there are the ad-libs or seeming ad-libs that crop up when Hedda assaults the audience. Many of the lines she's thunk up long ago, but many are clearly coined on the spot. In the show I saw, in which Hedda spent a typical amount of time questioning audience members' sexuality, unprepared seat-holders Jamie and Melissa came in for intense japery. Nonetheless, one of the marks of Hedda's comic expertise is that she/he knows how far to go before backing off. Polito may flirt with crossing the line, which is one of the signs of genuine comedy, but never does, which is another sign.
And don't think Polito shies away from the "Polit-ical" implications of his actual surname. Every once in a while he inserts a nice jab. At one point, he gets into family politics by saying that exploitative parents and siblings "use the gay children as slaves." There's heavy recognition mittage for that one. On the subject of religion and its place in Christmas and Christianity, Hedda quips, "The crucifixion doesn't make me want to shop." And he/she keeps that kind of thing up for longer than many others would dare, making for a very cool Yule.
Presented by and at the Metropolitan Room,
34 W. 22nd St., NYC.
Dec. 19-28.