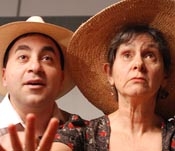 Charming and bemusing by turns, Imminence features venerable experimental troupe the Talking Band in a performance that tackles the concepts of time, death, and eternity while exploring the relationship between mundane human events and large-scale geological upheavals. Rather a lot for a mere play to take on, so it isn't surprising that the end result is a bit on the nebulous side.
What is surprising is that writer-director Paul Zimet avoids pretension in the face of these massive themes and turns out something that, in its best moments, is disarmingly self-effacing. On one level it's a kind of road movie for the stage, in which a woman named Simone, whose mother has recently died, takes her 20-year-old daughter on a 2,000-mile car trip to Coney Island. From this basic framework, the story moves back and forth in time, offering up glimpses of pivotal moments in this family's life: death, marriage, birthday parties, etc. Meanwhile, seas crash and earthquakes rumble; a giant video screen displays images of rock strata, which are distorted into wavy abstractions.
Unfortunately, the characters themselves are little more than abstractions, and Zimet's concept goes out of focus too often. Not always, though; Nic Ularu's set consists of four raised moving platforms that suggest shifting tectonic plates, and the birthday-party scene contains a marvelously concrete image of the dining-room table straddling the fault line. As the middle-aged birthday boy frets about his advancing years, the gap in the earth below him perfectly mirrors his anxieties and evokes the precariousness of life.
There's much to appreciate here, including the evocative music by Peter Gordon and Ellen Maddow, but I wouldn't have appreciated it any less if the meanings had been clearer and the characters more fully fleshed. For all its elemental imagery, Imminence hovers a little too far above the earth.
Presented by and at La MaMa E.T.C.,
74A E. Fourth St., NYC.
Feb. 17-March 2. Wed.-Sat., 7:30 p.m.; Sun., 2:30 and 7:30 p.m.
(212) 352-3101 or (866) 811-4111 or www.theatermania.com or www.lamama.org.