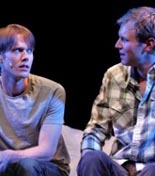 Combine John Rechy and Tennessee Williams and you might come up with something like Jason & Ben, the trivial and embarrassing New York Musical Theatre Festival work for which Matthew Loren Cohen wrote book, lyrics, and music. Besides wondering how bad the submissions that didn't make this year's cut were, you spend the intermissionless minutes hoping that maybe, eventually, you'll hear a hummable tune. But no luck. How about inspired lyrics? Oops, wrong again. A layered plot? Are you jesting? Rather, this is a four-letter fantasy about a pickup gone wrong.
Ben, alone on a New York City park bench with his guitar after having been dumped by his boyfriend following a 93-day affair, is joined by Jason, who's been espying him from his apartment window. The depressed Ben can't help but be charmed by the irrepressible, sunny Jason. Although Ben has his suspicions about the truth of what the glib Jason tells him, he follows him to his apartment, where the host gives out with advice ("You should be the one in charge") and sex. Ben is a romantic with dreams of a music career; Jason is a manipulative pragmatist who says he works for a record company. Bingo! Ah, but fame comes at a price; in this case, Jason wants to tie Ben to the bedpost before listening to the music he composed. Finally, in the kind of prescient line no writer should keep in his lexicon, Ben says, "Things can't get worse than this."
Zach Fischer turns on the charm as Jason, while Will Taylor is properly morose and then feisty as Ben. They kiss, they fight, they play guitar. Music director Adam Wachter and director James Beaudry do what they can. At the end, Alaska beckons, which certainly wouldn't be good news to Sarah Palin.
Presented by That's Not a Toy! Productions as part of the New York Musical Theatre Festival
at the 45th St. Theatre, 354 W. 45th St., NYC.
Sept. 27-Oct. 5. Remaining performances: Sat., Oct. 4, 1 p.m.; Sun., Oct. 5, 4:30 p.m.
(212) 352-3101 or (866) 811-4111 or www.theatermania.com or www.nymf.org.
Casting by Michael Cassara and Lindsay Levine.