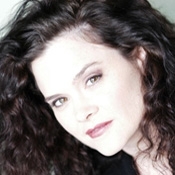 After spending a year and a half away from boitedom while raising her daughter, Julie Reyburn has returned and is at the Metropolitan Room for a series of four one-nighters. Perhaps because she's now a mama, she opened with a couple of tunes that brought out the incipient red-hot mama in her. First, she committed her strong mezzo to Bob Dylan's society wakeup song "Gotta Serve Somebody"; then she segued to the Lynn Ahrens-Stephen Flaherty "Mama Will Provide." That one served as a talisman and as notice: Energized by the opening items, Reyburn continued on the mama-advises tangent with the Nat King Cole-Irving Mills "Straighten Up and Fly Right."
But it wasn't all red-hot mama for Reyburn. Obviously, her fairly recent occupational change to wife and mother has infused her thinking. Some of what she included eased from red hot to warm. Along those lines, she got out the duster and flicked it across the Fanny Brice favorite "Cooking Breakfast for the One I Love" (Billy Rose-Henry Tobias). And she kept it up for the remainder of the time she was on stage. With her -- just to keep the home romantic fires burning -- was guitarist-hubby Thor Fields, and the couple got mileage from that out of the 2007 Alan Menken-Stephen Schwartz Oscar nominee "That's How You Know." Their sparking and Mark Janos' playing made the ditty better than it is.
Strong as Reyburn was, and as welcome as she is on her mini-comeback, there was one large program gaffe. For some reason -- a break after a hard day's mothering? -- she's using guests on each of the dates. I'd assumed that meant she was inviting visitors to join her for a song or two -- but no. This frame she had Devin Richards take the stage and sing not one but two numbers by himself -- "Sometimes I Feel Like a Motherless Child" (traditional, and was this a comment on Reyburn's motherhood theme?) and "Old Man River" (Oscar Hammerstein II-Jerome Kern).
Richards has an amazing voice that can go from way down there to way up there, and he made sure the audience understood as much. His showoff manner wasn't too bothersome in the first of his selections, but what he did to "Old Man River" -- arguably the single best song ever written for a musical -- shouldn't happen to a doggerel. He finished part of the great song and then interpolated "two-three-four" as if he were cuing the musicians. Suddenly, the Hammerstein-Kern outcry became all about the rhythm and the arrangement. There's a point beyond which showing off at the expense of a song becomes reprehensible, and Richards passed it.
It was after this mistake that Reyburn came back to the stage -- without acknowledging Richards -- and had to regain lost momentum. It was the Schwartz-Menken number that she and Fields indulged in after some too-twee introductory patter. And, yes, she caught up with herself, but it took some doing.
For Reyburn's next date the guests are David Gurland and Bill Reyburn. At the final two she'll turn the spotlight over to gig bassist Ritt Henn, which should make more sense. But not a lot more. On paper, the notion of a headliner introing guests sounds magnanimous. In practice, however, important continuity is too often sacrificed. It's something about which performers ought to think very carefully.
Presented by and at the Metropolitan Room,
34 W. 22nd St., NYC.
April 24-June. 12. Remaining performances: Thu., May 29, June 5, June 12, 10 p.m.
(212) 206-0440 or www.metropolitanroom.com.