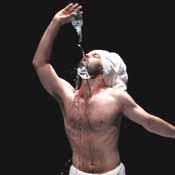 When choreographer Larry Keigwin sticks to the making of pure dance movement, his intuitively brilliant physical impulses lead to the creation of effervescent contemporary choreography that charges through space with a winsome combination of spunk and fluidity. But when the choreographer ventures too far into the realms of theatricality, comedy, and concept-driven dance, the results are often silly, not very funny, and disappointingly juvenile. In Elements, Keigwin's evening-length exploration of water, fire, earth, and air, recently performed by Keigwin + Company at the Joyce Theater, the choreographer mixes unadulterated dance passages with literal, sometimes campy movement jokes. The quality and power of the work's impact rise and fall accordingly.
If you're just looking for lighthearted summertime entertainment, Elements will serve up a satisfying brew of musical eclecticism and terpsichorean merriment. Ingeniously costumed by Liz Prince and performed with great verve by Keigwin and his eight-member company, the piece comprises four distinct suites and is danced to everything from Mozart, Bach, and Handel to country-western tunes, Cole Porter, and Perry Como. Yet it's the Fifth Dimension that accompanies the work's most entertaining scene, and its only completely successful marriage of staged movement and parodic humor. To the strains of "Up, Up, and Away," performers dressed as pilots and stewardesses introduce the "Air" movement of Elements with a euphoric ensemble dance derived from the familiar vocabulary of instructional gestures used by flight attendants when informing about emergency exits, oxygen masks, and overhead compartments.
In other sections of Elements, performers try to amuse us by filling their mouths with water, which they then spit upward like a fountain, or by darting their tongues in and out as they creep along the floor pretending to be reptiles. Nicole Wolcott and Liz Riga, however, give outstanding performances of smartly dramatic solos, and the halted moves assumed by a quartet of iguanas in the "Earth" section of Elements present an indelible display of Keigwin's choreographic craftiness.
Presented by and at the Joyce Theater, 175 Eighth Ave., NYC. July 28-Aug. 1. Remaining performance: Fri., Aug. 1, 8 p.m. (212) 242-0800 or www.joyce.org.