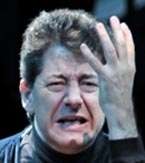 A revered but somewhat unwieldy classic of Spanish drama comes vividly to life in Repertorio Español's production of La Vida Es Sueño (Life Is a Dream).
This masterpiece by prolific 17th-century playwright Pedro Calderón de la Barca uses a fairy-tale-like plot for poetic meditations on the nature of reality, offering the intimation that life may be just a dream from which only death can awaken us. It tells of Prince Segismundo, imprisoned since birth by his father, King Basilio, who fears the omens and woeful circumstances surrounding the birth. When Segismundo reaches adulthood, Basilio gives him a trial run as his successor, but it doesn't go well. Segismundo is taken back to prison and told his brief stint on the throne was all a dream. However, when rebellion threatens the kingdom, Segismundo gets a second chance and proves he's able to do the right thing, although he remains uncertain about the nature of reality.
René Buch, Repertorio Español's artistic director, has staged the play twice before, and in this production he moves through the plot turns with sureness and clarity, eschewing extraneous fuss. The costuming has an uncluttered, timeless feel, and the décor, shrouded in shadows and studded with mirrors, underscores the play's labyrinthine philosophy.
The emphasis is on the appropriately full-throttle acting and the language. The performance is in Spanish, with headsets providing simultaneous English translation. The rather neutral-sounding voices of the translators, of course, are no match for the impassioned delivery of the actors, led by Luis Carlos de La Lombana's powerful rendering of Segismundo. Other impressive turns include Zulema Clares as Rosaura, a young woman on her own quest for justice who happens upon Segismundo's prison; Francisco Rivela's King Basilio; Alfonso Rey's Clotaldo, Segismundo's benevolent jailer; Silvia Sierra and Gerardo Gudiño as two competitors for the throne; and Carlos Castillo as the servant Clarín, who provides some comic relief.
Seeing this arcane classic enacted with bravura within the elegant intimacy of Repertorio Español's theatre makes for a special kind of experience, one that in itself is almost dreamlike.
Presented by and at Repertorio Español,
138 E. 27th St., NYC.
Nov. 7-May 5, 2009. Schedule varies.
(212) 225-9920 or www.repertorio.org.