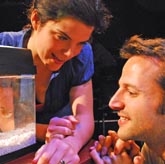 It's pleasing to see the Ensemble Studio Theatre's annual marathon of one-act plays, now under the guardianship of William Carden, regaining its full strength. It's an institution that celebrates some of the best aspects of theatre: immediacy, no-nonsense presentation, and the primacy of the playwright. Although Marathon 2008 Series C is hardly gemlike, its five contributions still illustrate that variety is the spice of lively theatre.
The most ambitious of the plays is Michael Feingold's Japanoir, a Westerner's take on Japanese film. Directed by Richard Hamburger, we meet a Western journalist (Leslie Ayvazian) interviewing a Japanese film director (Steven Eng). By way of explanation, we view two current examples in the making of the director's work: Love Movie and Money Movie, both presented by a cast of seven versatile players. The films are deliberately clichéd, as their titles imply, as are the remarks of the director as he speaks of "essence," "darkness," and "juxtaposition." The resulting play, while original and consistently interesting, is also pedestrian. Feingold views the subject with obvious affection, but he's unable to decide if his play is a satire or an homage; as a mix of both, it's a soup that's not quite digestible.
The evening begins with Piscary by noted playwright Frank D. Gilroy, directed by Janet Zarish. It is a model of economic writing. He (Mark Alhadeff) and She (Diane Davis) are having pre-wedding jitters. The reassessment of their relationship includes tropical fish and a game of Scrabble, which Gilroy briskly presents, tying the entertaining package with the neatest of bows. Davis is particularly winning here.
José Rivera's Flowers, directed by Linsay Firman, is an imaginative attempt to describe the process of puberty. Beto (Raul Castillo) watches as his sister Lulu (Flora Diaz) develops an acne that literally begins to blossom. When Lulu observes, "I'm turning into a rainforest!," we know where we're headed. Rivera's play is an uneasy combination of metaphor and magic realism that's short on magic.
The bonbon that ends the evening is A Very Very Short Play by Jacquelyn Reingold, directed by Jonathan Bernstein. Seated together on a plane are Roger (Adam Dannheisser) and Joan (Julie Fitzpatrick). Roger, a lawyer, is 12 feet 8 inches tall, while Joan is only a foot tall. Demonstrating that opposites attract, Reingold also proves that brevity is the soul of successful surrealism.
Series C's most successful entrant is In Between Songs by Lewis Black, directed by Rebecca Nelson. Three friends, Chaz (Jack Gilpin), Ed (David Wohl), and Grace (Cecilia DeWolf), are sharing an evening of pot and Bob Dylan. From this none-too-original beginning, Black develops his comedy into a meditation on time, both lost and regained. The humor has an undercurrent of longing that lingers with you.
Presented by and at the Ensemble Studio Theatre,
549 W. 52nd St., 2nd floor, NYC.
June 7-28. Schedule varies.
(212) 352-3101 or (866) 811-4111 or www.theatermania.com.
Casting by Jodi Collins.