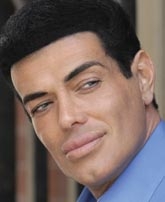 Let's just skip past the fact that Marcus Simeone is now being billed as a "troubadour of love" and take up the subject of his phrasing. As someone who heard him at the kickoff of a series of first Sundays of the month he's doing at the Metropolitan Room, I can attest he's able to phrase lyrics meaningfully when it occurs to him. For part of his closing reprises, he repeated words from "The Heart," a Jason Darrow-Stephen Schwartz song he introduced and after which he's named his set. The sentiment he delivered in those beg-off moments has to do with hoping to be together again. Aiming it at the audience, he clearly wanted to express his appreciation for the attention — and the frequent cheers — he'd been accorded. He got his point across nicely.
At most other times during his act, however, he didn't get his point across — or that of most of the lyricists whose songs he sang. What he did get across was his voice, and, yes, since his New York debut seven years ago, he has had, and still has, a stunning, multi-octave voice that he controls as he sees fit to do. One thing he almost always sees fit to do is take the highest note in any given melodic phrase and push it. Never mind if it's, say, a preposition or the unaccented syllable in a word like stranger or brighter.
Another thing he almost always sees fit to do is blare the word high whenever it appears in a lyric — and don't you know it often appears on a high note? Yet another thing he sees fit to do is take breaths in the middle of phrases — phrases in the middle of which breaths shouldn't be taken, as with "how I came to lose your love" from "Answer Me, My Love" (Carl Sigman-Gerhard Winkler-Fred Rauch), which he sang as "how I came [breath] to lose your love." Similar inappropriate breaths in his melisma-riddled singing undermined many of the thoughts various wordsmiths had put some hard work into wanting expressed.
The result of Simeone's disregard for lyrics (many were also rushed and/or garbled) is that eventually all selections sound alike, which makes him the boite set's Josh Groban. Since Groban is doing okay, that approach to singing apparently has sufficient appeal for many audiences. Indeed, according to Simeone's press material, the sultry-looking, bedroom-eyed Simeone has been compared by critics "to many great interpretive vocalists." My observation this time is that in addition to his "Heart" reprise, the only interpretation I heard ringing true was the rendition of Gilbert O'Sullivan's shamefully lachrymose anthem "Alone Again (Naturally)." In that one, the truly standout work was musical director-pianist Barry Levitt's rhapsodic musical break.
Some years ago and under Lina Koutrakos' direction, Simeone did a show throughout which he connected with his material. That's the year he was handed for his efforts a Bistro Award as outstanding male vocalist. That show is beginning to seem a fluke. He's now working with veteran music man Jason Darrow, who co-wrote a couple of other songs in the Simeone hour. Perhaps Darrow, who has a lot to do with Jane Olivor's impressive career, can alert Simeone that songs are about something, and that important something has to be gotten across — in troubadour style or no troubadour style.
Presented by and at the Metropolitan Room,
34 W. 22nd St., NYC.
April 6-Aug. 3. Remaining performances: Sun., May 4, June 1, July 6, and Aug. 3, 7 p.m.
(212) 206-0440.