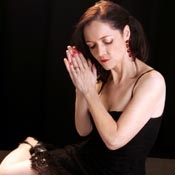 Thinking to warm the winter night, Mary Foster Conklin chose songs for her recent two-night Metropolitan Room stop that included lyrics invoking moon and/or sand and/or sea-- or all three. Her opener, the Johnny Mandel-Marilyn Bergman-Alan Bergman "Cinnamon and Clove," even boasts the phrase "salty days and sultry nights."
The adjective sultry may have been Conklin's way of referring to a large part of her onstage appeal, as has been mentioned in any number of reviews itemizing her alluring traits over the last few years. Yes, she's sultry, but also always with a pronounced down-to-earth -- not down-to-sand -- touch. No guile about her in the least, just a welcome penchant for giving songs a slightly jazz turn as she gyrates sultrily and slowly, usually in a sheath dress.
Conklin never goes so far into familiar jazz delivery that she forgets about the importance of lyrics. She's so concerned about them that she takes time assessing lyrical content. She doesn't, however, choose the obvious ones -- at least not completely. She admits she went for the "predictable songs" to begin the set -- "Moonglow" (Will Hudson–Edgar DeLange–Irving Mills) and "What a Little Moonlight Will Do" (Harry MacGregor Woods). They allowed her, she confided, to progress to lesser-known entries. From then on, she inserted only occasionally a recognizable number like "La Mer" (Charles Trenet–Albert Lasry), which she sang "in my Jersey French" and then shifted to Jack Lawrence's English version.
The obscure gems from the more obscure tunesmiths with which she took care ran to "Goodbye Look" (Donald Fagen) and "Those Eyes" (Rosa Passos–Fernando De Oliveira–Brock Walsh). But she delved into rarities by better-known names as well. In recognition of Johnny Mercer's centennial, she found one of his -- written with Marian McPartland -- that's rarely dusted off, "Twilight World," and what a beauty it is. She rescued Paul Simon's "Song About the Moon" from oblivion (but didn't pair it, as she might have, with Jerry Herman's "Song on the Sand.")
She and her trio -- John DiMartino at the piano, Tim Horner on drums, and Marco Panascia on bass -- also don't get around to Frank Loesser and Victor Schertzinger's "Sand in My Shoes," but an already spoiled reviewer can't expect to have everything. And speaking of that trio and their brio, Conklin respects her musical support so much that she sometimes gives the impression she's singing not only to get the emotions across but just as much to lead into the musical breaks.
Incidentally, those interludes present a small problem for cabaret audiences, one that doesn't exist in jazz rooms. Cabaret goers are uncertain about when to applaud instrumental solos. They're waiting for the singer to take over again. Jazz fans know they're supposed to acknowledge the eight-bar, 16-bar, and longer spotlight shifting, and they do, heartily, even over the singer's return.
But Conklin knows her crowd. In a cabaret room she talks liberally about the repertoire at hand. When, for example, she introed "La Mer" and its "Beyond the Sea" translation, she chatted about how the French lyric dwells on the sea whereas Lawrence's English words emphasize beyond-the-sea observations. In a jazz room she probably wouldn't take the time.
Presented by and at the Metropolitan Room,
34 W. 22nd St., NYC.
Feb. 6–7.