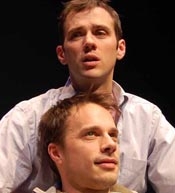 In a world flooded by emails, this small play by Garret Jon Groenveld, neatly directed by Elysabeth Kleinhans, is a paean to the handwritten letter. It begins when Ben (Richard Gallagher), a young gay man, slips a letter under the door of his neighbor Lia (Shamika Cotton), a young straight African American who lives just across the hall from him. The letter is frankly bawdy and poetically wise, posing the questions: "What's the difference between a black woman and a gay man? Are we the same person living different lives?" Although this interesting inquiry never really gets answered by the playwright, we do witness the development of a genuine friendship as the letters begin to flow fast and furious. Soon these letters develop into a dialogue of two protagonists not in the same room swapping innermost secrets. One of their shared passions is for the soap opera Through the Hourglass , whose reigning diva, Trixie Evans (Ashley West), via TV screens becomes a part of their lives -- and an integral part of the play.
These early scenes have some genuine charm, and if only Missives had been limited to these three characters, this charm might have been contained therein. But playwright Groenveld is intent on developing the two protagonists' lives as they discover love of a more regular kind. Thus Lia becomes Mrs. Joshua White and moves from the building, with the correspondence continuing via post. "You're neither black nor white; you are as good as gold, my friend," writes Ben. Then Ben takes a lover, Steven (Ryan Tresser), who is HIV positive but doesn't immediately tell Ben. Suddenly melodrama is being stuffed into those envelopes in lumpy proportions.
In Act 2 the play really unravels, both in substance and structure. Ben is now absent from the stage, and we're introduced to Freddie (Jay Randall), a sociopath given to diatribes that are campily mad, such as "I was slipped a note while riding the bus by a man who looked surprisingly like Chiang Kai-shek." Freddie, who also writes letters to Lia, seems to have wandered in from some other play. Poor Lia not only has to deal with Freddie but also has to carry the wearisome plot on her slim shoulders.
This is a pity, because Cotton, when allowed, displays a fresh and pleasing stage presence. Gallagher contributes a perky Ben; while his whimsies in Act 1 may seem overripe, as Act 2 stumbles we long to hear his voice of poetic reason once again. Randall dispenses Freddie with lip-licking relish, and West's soap opera queen -- the play's best idea -- provides much needed humor. On the vest-pocket stage, Maruti Evan's set and lighting design are definite assets, aided by Barbara Iams Korein's colorful projections. All those flowers are just what we need to remind us that it's spring.
Presented by Animated Theaterworks, Theater Resources Unlimited, and PlayGround
at 59E59 Theaters, 59 E. 59th St., NYC.
March 23–April 6. Tue.–Sat., 8: 30 p.m.; Sun., 3:30 p.m.
(212) 279-4200 or www.ticketcentral.com.