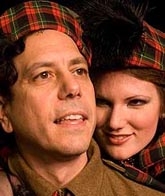 The last time Mr. Shakespeare and Mr. Porter got together, it was a happy union: Kiss Me, Kate. Wanting lightning to strike twice, Medicine Show has united them again, but Mr. Shakespeare and Mr. Porter (Volume 1), which the company has performed intermittently since 1992, is more of a shotgun wedding. Barbara Vann's venerable troupe simply takes three Shakespeare titles — Hamlet, Macbeth, and A Midsummer Night's Dream — slashes the text down to the bare essentials, and inserts what it deems to be appropriate Cole Porter songs, familiar and un. (There's also a Volume 2 Porterizing Measure for Measure, Richard III, and Dream again, which runs Dec. 4-21, but based on Volume 1, I won't be rushing to it.)
Just because both fellows have a way with words doesn't make them ideal collaborators. Porter's urbane wit, world-weariness, and then-topical references to the likes of Robert Taylor and Rudy Vallee clash with Shakespeare's high-flown philosophy and poetry in ways I guess Medicine Show intends to be ironic and funny. Sometimes it's apt: I suppose there's a crude logic to Gertrude advising Ophelia "Most Gentlemen Don't Like Love," but Vann's screeching is so unpleasant you struggle to tune it out. And when Puck infects the whole forest with his love virus, it stands to reason the inhabitants would declare "Let's Do It." But practically no one can sing, and Alexis Hadsall's staging, like Vann's in the other two pieces, is St. Vitus' dance frenetic, with much random running, jumping, and falling down. And when staging Macbeth in whimsical kilts, how much sense does it make to have one minor character sporting a Scottish accent and no one else?
The performances range from junior-high drama club to pretty good: Peter Tedeschi is a fine Polonius and a not-bad Macbeth, Eva Nicole and Patrick Wickham are a suitably regal Titania and Oberon with real voices, and Lindsey Kitt Wiebe's Lady Macbeth works on the musical comedy level at which it's conceived. It's always a pleasure to encounter unknown Porter — and no matter how much of a Porter fanatic you are, you won't know some of these songs — though, despite Jake Lloyd's hard-working musical direction, they're seldom treated kindly. It's telling that for the finale, "Night and Day," the cast urges audience members to come on stage and dance, and people practically have to be dragged there. This is not a hot stage.
Presented by and at Medicine Show Theatre,
549 W. 52nd St., 3rd floor, NYC.
Nov. 14-23. Thu.-Sat., 8 p.m.; Sun., 4 p.m.
(212) 868-4444 or www.smarttix.com.