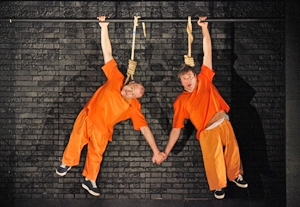 This Back Stage's review of the show's original run in the 2009 New York International Fringe Festival.

Who'd have thought that a show about four men in prison getting beaten, raped, electrocuted, hung, and guillotined would be so hilarious? The Madrid-based troupe Yllana obviously did.
In its latest work, "666," the multitalented quartet embraces a dark, almost brutal strain of physical comedy. Though the actors grunt, scream, and mumble, there's no dialogue. Performers Raul Cano, Fidel Fernandez, Joe O'Curneen, and Juan Ramos Toro combine buffoon, slapstick and scatological satire with aplomb, often reaching to tasteless heights (or depths) to get belly laughs. They succeed much more than they fail, but it's a rough mix. I overheard one person say she loved the show but "felt traumatized." I'd agree.
Director David Ottone keeps the pace brisk. The performers are all sharp and absolutely fearless, lead by Cano's hilarious turn as the group's "innocent." The 90-minute performance offers a bit of audience participation and flying liquids, especially in the front rows, so prepare yourself. (And that says nothing about the "large" surprise near the end.) By the final third, the pace lessens a bit. Then again, it's still much more fun than you'd likely have at "The Exonerated."

Presented by Psycoductions and Moonglow Productions, in association with Producciones Yllana, at the Minetta Lane Theatre, 18 Minetta Lane, NYC. Opened April 15 for an open run. Tue.–Fri., 8 p.m.; Sat., 5 and 9 p.m. (212) 307-4100 or www.ticketmaster.com.