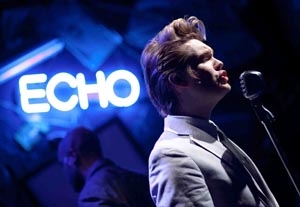 Think of the first half of #
9
—which examines the innumerable ways in which technology, social networking in particular, affects how people interact with each other—as the best kind of first date you can possibly imagine: The chemistry is strong and dynamic; every element seems to fit. Think of the second half of #
9
as, well, if not the worst second date you can possibly imagine, certainly one in which everything you thought you knew about the first date is suddenly revealed as synthetic. Disappointment reigns. What went wrong?
Hanna Cheek, Matt Dellapina, David Ryan Smith, and Kevin Townley play themselves (their given names are listed in the program as that of their characters). At the same time, and in the laudable collaborative spirit of Waterwell's work, the actors frequently assume secondary recurring characters as well, ranging from the well-defined to the fleeting. For example, one vignette situates Dellapina and Townley as two men who meet cute online and quickly grow hot for a tryst. In another, Dellapina and Smith articulate as dialogue an online conversation in which Dellapina confesses that he is soon to be a father.
Cheek is a waitress, a singing vamp, a comic foil, an object of romance. Smith spends a great deal of the time conveying bits and pieces of information about the death of his father in a hurricane and later plays his father as an act of grief. There is a line about asking for people to "donate their status" in memory of Smith's father that sums up what #
9
is getting at.
Before the midpoint of the intermissionless piece, the fragments of story lines strewn throughout #
9
do start to coalesce. But far too many themes and motifs laid down in the first half are not picked up and brought to their logical conclusions. Sadly, the chief culprit is the songs, which are co-credited to Lauren Cregor and the Waterwell collective. Yes, they serve as respites from all the frenetic scenes, but they are so wildly plentiful—needless if beautiful substitutes for narrative—that they thwart the impact of the piece. Less song, more story, please.
Waterwell correctly identifies all the downsides of a society besotted with and addicted to technology—all that tweeting, Facebooking, IMing, and so forth. And it communicates decently the idea that so much communicative ability has left society with a fundamental inability to communicate. What's frustrating is that it isn't only communication that technology has wounded; it's also structure—in the case of #
9
, the loss of a story with a crystal-clear arc.
Presented by Waterwell as part of Americas Off Broadwayat 59E59 Theaters, 59 E. 59th St
.,
NYC
.
June 11
–
28. Tue
.,
7:30 p.m
.;
Wed
.–
Sat
.,
8:30 p.m
.;
Sun
.,
3:30 and 7:30 p.m
. (
No performance Sun
.,
June 14, 3:30 p.m
.)(
212
)
279-4200 or www.ticketcentral.com
.