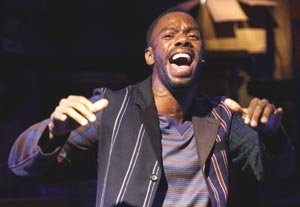 In this age of downsizing, solo shows are making a big comeback among cash-strapped theaters. But there's nothing minimal about "A Boy and His Soul," Colman Domingo's autobiographical effort, which opens the Vineyard Theatre's season.
Using a collection of vintage R&B vinyl found in his parents' basement as a jumping-off point, Domingo populates the stage with a galaxy of characters from his childhood and adolescence. Recently seen in a variety of roles in "Passing Strange," the playwright-performer displays his versatility as he employs an arsenal of gestures and vocal characteristics to become his religious mother, gruff father, sassy sister, and macho brother, as well as himself as a boy. That young man, wrestling with his sexual identity and artistic inclinations in an African-American family, finds solace, joy, and inspiration in the soul music constantly playing on the turntable.
Even though the template has been used before—gay youth finds himself through art and tentatively comes out to his confused but ultimately accepting loved ones—Colman brings a captivating freshness to the material, staged snappily by Tony Kelly. From Aretha Franklin's cry for respect to James Brown's declaration that this is a man's world to the Stylistics' velvety love anthems, each of the songs provides a lesson, a memory, or an opportunity to do the robot, electric boogie, or pop-and-lock. Domingo is a skillful dancer and performs Ken Roberson's energetic choreography with unflagging style. This guy is like a one-man "Dancing With the Stars."
He's also a talented writer. He conjures dozens of memorable word pictures by citing specific details, including the color of the tumblers from which he and his mother would drink iced tea and the paprika sprinkled on the deviled eggs packed for road trips.
The design elements mesh perfectly with Rachel Hauck's nostalgic basement set, transformed into everything from a glittering disco to a West Philadelphia backyard to a hectic New York street by Marcus Doshi's expert lighting. Special kudos to sound designer Tom Morse for the collage of aural sensations created from a soul-filled life soundtrack.
Presented by and at the Vineyard Theatre 108 E. 15th St
.,
NYC. Sept. 24
–
Nov.1. Tue
.,
7 p.m
.;
Wed
.–
Sat
.,
8 p.m
.;
Sat. and Sun
.,
3 p.m
. (
212
)
353-0303 or www.vineyardtheatre.org
.