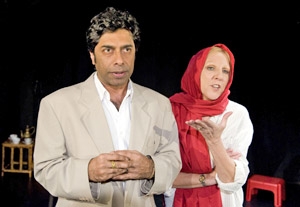 Like castor oil, the sincere "A British Subject" may be good for you but is hard to swallow. In the tradition of one of those living-newspaper projects from the Federal Theatre back in the 1930s, Nichola McAuliffe's torn-from-the-headlines play brims with good intentions yet is dramatically inert. The factual story of a Britisher who, in Pakistan to visit relatives, murders a taxicab driver and ends up being held in one of the country's jails for 18 years while awaiting his oft-postponed execution is as contemporary as the latest news from the Middle East.
Taking place in London and Pakistan, the play follows the altruistic efforts of Daily Mirror correspondent Don Mackay to goad public opinion and government action to free the eponymous Tahir. The taxi driver, according to Tahir, not only tried to rob him of his passport and money but also demanded sexual favors. Aided by Tahir's brother, Mackay journeys to Pakistan, where he interviews the prisoner and learns of the disgusting conditions under which he must exist. Early pressures by Britain to free Tahir faded because of other concerns, such as the Iraq War. Moreover, Pakistani president Pervez Musharraf's hands are tied by Sharia law, which calls for revenge by the taxi driver's family. Returning to London, Mackay writes of his experiences, his story consigned to the paper's back pages by his editor, who's reluctant to start what looks like an unwinnable campaign. Meanwhile, Mackay's wife pens pleading letters to Prince Charles and prays to St. Jude. McAuliffe somehow means to equate her entreaties to God with Tahir's; unfortunately, the comparison is underdeveloped.
The subject is certainly explosive, but the dramaturgy is superficial and the characters lack depth, although director Hannah Eidinow and her cast do their best to inject vitality and credibility into the evening. As Mackay, Tom Cotcher catches the conflict between a do-gooder and a journalist out for a scoop. Shiv Grewal distinguishes among his various roles and is particularly sympathetic as Tahir's brother. As Tahir, Kulvinder Ghir is intense in the extended account of his imprisonment, but his low voice level, indicative of longtime captivity, eventually becomes monotonous.
Author-actor McAuliffe plays several roles of both genders. She's passionate as the crusading Mrs. Mackay, amusing as a curious guard, and forceful as several officials. There are moments in her play that work well, such as a tense tea scene between Mackay and the jail's governor. Tom Lishman's sound design imparts a strong you-are-there aspect, but the evening is curiously remote.
Presented by Pleasance Theatre Trust as part of Brits Off Broadway 2009 at 59E59 Theaters, 59 E. 59th St., NYC. Dec. 13–Jan. 3. Tue., 7:15 p.m.; Wed.–Fri., 8:15 p.m.; Sat., 2:15 and 8:15 p.m.; Sun., 3:15 and 7:15 p.m. (Thu., Dec. 24 and 31, 7:15 p.m.; no performance Fri., Dec. 25 and Jan. 1.) (212) 279-4200 or www.ticketcentral.com.