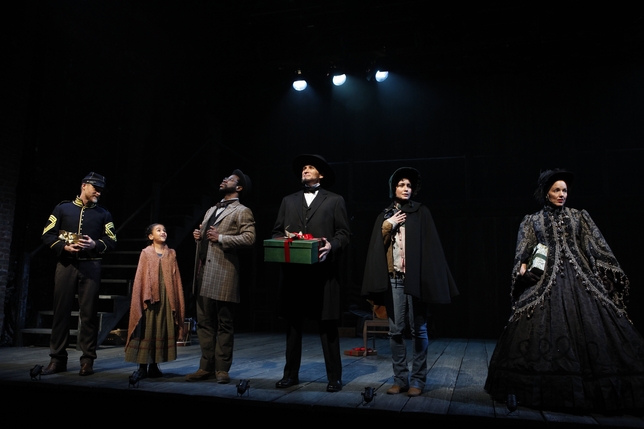 From the fecund imagination of Paula Vogel comes "A Civil War Christmas," a gorgeous tapestry of interconnected stories all playing out on Christmas Eve 1864 and woven together with the liberal use of carols, spirituals, and period songs. The valiant Tina Landau directs a crackerjack company of 11 actors—in multiple roles unrestricted by race or gender—with unceasing invention. Inspirational holiday-themed offerings are not generally my thing, but this New York Theatre Workshop show transcends its genre; it would play just as well in July as in December.
At the center of the picture are President Abraham Lincoln and his wife, Mary, who are celebrating what will turn out to be their last Christmas together. Mary, though determined to make the holiday festive, is still haunted by the death of their young son Willie two years before and hounded by Congress and the press for her overspending. She is also terrified by the unending death threats made on her husband, who remains focused on winning the Civil War and tormented by its human cost. Other stories include those of escaping slave Hannah and her young daughter, Jessa; a cabal of rebels at Mary Surratt's boarding house, including John Wilkes Booth, plotting to kidnap the president; Decatur Bronson, a free black officer in the Union army whose wife, Rose, and daughter were taken by Confederate soldiers; freeborn shopkeeper James Wormley, who is determined to secure a Christmas tree for Elizabeth Keckley, dressmaker for Washington's elite, including Mary Lincoln; and 13-year-old Raz, a Southern boy seeking to join up and fight for the Confederacy, even though his horse Silver is decidedly cool on the idea. Also making appearances are generals Robert E. Lee, William Tecumseh Sherman, and Ulysses S. Grant as they strive to bring the war to an end.
Landau's staging makes good use of her trademark physicality and story-theater devices, regularly achieving evocative stage pictures. Landau is significantly aided by James Schuette's stark, spare set; Toni-Leslie James' understated period costumes; and especially Scott Zielinski's sculptural lighting. The actors eschew detailed naturalism, instead concentrating on the essences of their many characters, all of whom are delineated cleanly. Everyone has an opportunity to stand out, yet what's most memorable is the ensemble unity. Bob Stillman and Alice Ripley, as the Lincolns, are touching in their concern for each other. Karen Kandel's furrowed brow and luminous gaze speak volumes about Keckley. The lovely Amber Iman displays prodigious vocal talents and effortless authority as Hannah and Rose. Jonathan-David's skeptical Silver is an absolute gem. Sean Allan Krill brings a vital energy and commanding stage presence to his generals and Booth. As Jessa, adrift on Washington streets in the bitter cold, Sumaya Bouhbal shines as bright as a Christmas star.
Special mention must go to Andrew Resnick's musical direction and Daryl Waters' arrangements and incidental music. Vogel has made song the beating heart of the show, and Resnick, Waters, and the cast realize that vision beautifully. "A Civil War Christmas" is as fresh as a bracing winter snowfall.
Presented by and at New York Theatre Workshop, 79 E. Fourth St., NYC. Dec. 4–30. (212) 279-4200 or www.ticketcentral.com. Casting by Jack Doulin.
Critic's Score: A