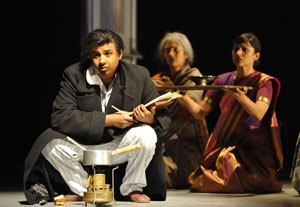 Math was my worst subject in school, so my heart sank a bit when "A Disappearing Number" began with an earnest lecturer striding onto the stage of the David H. Koch Theatre and explaining numerical sequences. But when another actor entered and said, "I'll bet you thought the whole show would be like this," the audience laughed, and we knew we were in safe hands. This complex, bizarre, theatrical meditation on how numbers influence our lives flows like a combination sci-fi thriller and scholarly treatise. Conceived and directed by Simon McBurney and devised with members of his company, Complicite, it's presented here for an appallingly short run as part of the Lincoln Center Festival after winning the Evening Standard and Olivier awards for best play in London.
McBurney and the company weave together several strands of plot to form a pattern reflecting the simultaneous interconnectedness and separateness of everything in the universe. One of the recurring themes is how the decimal numbers after 1 keep getting closer and closer to 2 but never reach it. The people in "Number" attempt to make connections but never reach each other completely. One story thread follows the relationship between real-life mathematicians G.H. Hardy of Cambridge University and Srinivsa Ramanujan, an Indian clerk with no university degree who sends the former a 10-page letter full of genius-level theories and formulae. Hardy arranges for Ramanujan to study with him in England during World War I, commencing a brilliant collaboration and a cultural conflict. A contemporary fictional storyline follows the romance and marriage of British math professor Ruth Minnen (she's the lecturer at the top of the show) and Al Cooper, an American hedge-fund manager of Indian descent. Indian physicist Aninda Rao serves as narrator, bridging the two timelines. 
McBurney's brilliantly fluid staging glides back and forth between centuries and continents. In one dazzling sequence detailing a typical day in Hardy's well-ordered life, McBurney creates the stage equivalent of a variety of cinematic shots. We see the professor from above as he drinks coffee and reads the newspaper, then in shadow as he rides his bicycle to college and enjoys a game of tennis. Michael Levine's flexible set, Paul Anderson's versatile lighting, Christopher Shutt's pitch-perfect sound, and Sven Ortel's dazzling projections all contribute to the director's complex vision. 
With a production like this, in which the spotlight is on the director, the acting does not shine as brightly. But the Complicite performers inhabit their roles with skillful subtlety. Firdous Bamji illuminates Al's passion to understand Ruth and her passion for numbers. Saskia Reeves' Ruth is all giggles and nervous smiles, concealing her desperate desire to find logic through her equations. Paul Bhattacharjee finds the humor and humanity in Rao. David Annen as Hardy and Shane Shambhu as Ramanujan are not given as much meaty material to work with, appearing mostly as animated figures in historical flashbacks. 
"Number" is only here a short time. Fortunately, it can be seen again as part of the National Theatre's series of live broadcasts in movie theaters around the world in October.  
Presented by Complicite as part of Lincoln Center Festival 2010 at the David H. Koch Theater, 20 Lincoln Center Plaza, NYC. July 15–18. Remaining performances: Fri., July 16, 8 p.m.; Sat., July 17, 2 and 8 p.m.; Sun., July 18, 3 p.m. (212) 721-6500 or www.lincolncenter.org.