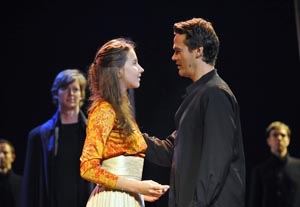 Chances are that few audience members of "A Magic Flute," director Peter Brook's reimagining of Mozart's opera "The Magic Flute," which is performed in French and German and relies on English supertitles, are trilingual. Still, the universal language of opera is passion. The audience is supposed to understand each character's longing simply through the singers' emotional performances. While Brook effectively and fluently simplifies Mozart's work, his two central vocalists lack the necessary fervor to convey the work's essential love story.
As the separated lovers, Pamina and Tamino, Jeanne Zaepffel and Adrian Strooper are never completely convincing in their romantic ardor. Tamino goes on a quest to rescue the captured Pamina, hostage to the evil Sarastro, after falling in love simply from seeing her picture, but his extreme longing never fully comes across in Strooper's powerfully adequate, though not quite robust, vocals. What's more, the actor's blank facial stares are impossible to translate. Zaepffel vocalizes like a little dove, with a sweetness and innocence appropriate to her virtuous and wronged character, but she remains the princess in the picture and never evolves into a woman deserving of Tamino's desires. When Pamina contemplates taking her own life because she thinks she cannot have Tamino, Zaepffel never embodies the character's inner turmoil. She simply holds the deadly instrument up and looks at it like any other quotidian object.
The supporting players, however, deliver loaded and fulfilling performances. Thomas Dolié continually steals the show as the lovesick bird catcher, Papageno, who begrudgingly follows Tamino on his quest for love. But all Papageno wants is a wife of his own. (As his little Papagena, Dima Bawab is equal parts lovely and cute.) Dolié's physical comedy and jovially exaggerated facial expressions infuse the role with a vigor some of the other performances are missing. While his vocals are weak in places, his energy compensates for it. As the Queen of the Night, Malia Bendi-Merad shows off her awe-inspiring vocal range. She hits notes the human ear was not designed to register, particularly in the queen's famed second aria, when she threatens to disown Pamina, who is her daughter. Raphaël Brémard is suitably conniving and deliciously evil as Sarastro's slave Monostatos, and Luc Bertin-Hugault's velvety bass voice creates a Sarastro who could charm any young girl into submission and oblivion.
Brook strips down all elements, giving the work a raw and melodic quality. A series of bamboo reeds fills the stage, and the musical accompaniment is a mere but sufficient pianist. The hollow reeds echo the flute imagery and serve as barriers, cages, and trees, turning the stage into a constantly evolving magical forest. Hélène Patarot costumes the performers in simple, movement-friendly ensembles.
Despite some shortcomings, this raw adaptation—by Brook, Franck Krawczyk, and Marie-Hélène Estienne—is worth witnessing. It holds the magical power of music above all as it showcases Mozart's impressive compositions through Brook's pared-down vision. However, I would have liked to ignore the supertitles and feel the emotion of the performers. Instead, I too often found myself reading what I should have been hearing.
Presented by C.I.C.T/Théâtre des Bouffes du Nord; Lincoln Center Festival; Barbican, London; Festival d'Automne à Paris; Attiki Cultural Society, Athens; Musikfest, Bremen; Théâtre de Caen; MC2, Grenoble; Les Théâtres de la Ville de Luxembourg; and Piccolo Theatro di Milano—Teatro d'Europa as part of Lincoln Center Festival 2011 at the Gerald W. Lynch Theater at John Jay College, 899 10th Ave., NYC. July 6–July 17. Tue.–Sun., 8 p.m.; Sat. and Sun., 2 p.m. (212) 721-6500 or www.lincolncenterfestival.org.