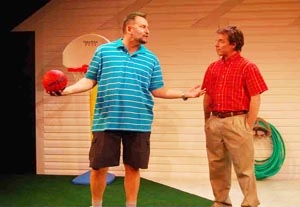 The playwright Yasmina Reza would not only recognize but probably salute
A Play on Words
, Brian Dykstra's corrosively funny two-hander. That's because he steals a page from her playbook, devising a seemingly realistic scenario that's actually a loony, lovable paean to absurdism.
Check out Kelly Syring's set, for example: an archetypically American suburban backyard, with a low-rise basketball hoop, an ancient car tire hung from a tree, and a garden hose wrapped around a reel. Here we meet Max, played by Dykstra in a fashion that would also seem classically American: ball cap askew, sport shirt untucked, cool drink in the mesh pocket of his canvas lounge chair. He stares intently at a piece of blank cardboard propped upright by carefully arranged old tools. Enter Rusty, played by Mark Boyett in similar mufti, iced coffee in hand, absently reading a newspaper. You expect birds to chirp on cue, and aces to director Margarett Perry for not going there, and for staging the play elegantly in a small space.
Rusty's perfunctory greeting to Max—"Hey"—instantly becomes a debate on the semantics of chitchat. How Dykstra achieves this is wild: He forgoes exposition, character, and other dramatic accoutrements to dive into the meaning behind the play's title. He does provide all these later, but for now it's clear this isn't how neighbors or friends communicate. Yet the actors understand that the humor comes from playing it real, and they do so superbly.
Dykstra is writing about language—why things mean what they mean, and how we know. The play is like a survey course in semiotics, and often funnier than it has a right to be. Plus, Max is nuts. Where an Average Joe can read between the lines of civil discourse, pick up on nonverbal hints, and keep things light and breezy, Max sees only verbal constructions to debate, misused words to correct, grammar to parse, and linguistic curiosities to analyze. His likability is his saving grace, plus the fact that Rusty—particularly in the goofball, Rick Moranis-y way Boyett plays him—is such a gaffe-prone foil. The bit about entomology and etymology is darn near perfect.
Later, Dykstra stops dancing on the heads of pins. Max tells Rusty why he was staring at the cardboard: A political rally is planned for their vaguely named town of Springfield—shades of
The Simpsons
—and he aims to affix wording on the cardboard to anger left and right. This is incitement to riot, but they take to the idea like teens fixing an old engine. When the idea runs aground because of one word, you know Reza would kvell.
Presented by Twilight Theatre Company and the Kitchen Theatre Company as part of Americas Off Broadway at 59E59 Theaters, 59 E. 59th St
.,
NYC. May 17
–
30. Tue
.,
7:30 p.m
.;
Wed
.–
Sat
.,
8:30 p.m
. (
Additional show Sun
.,
May 24, 7:30 p.m
.) (
212
)
279-4200 or www.ticketcentral.com
.