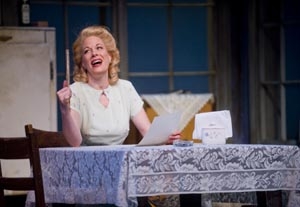 "A Streetcar Named Desire" is Tennessee Williams' greatest and most performed play. It's also the hardest to get right. All too often the balance shifts to the showcase role of Blanche DuBois, with her diva-ish behavior, Southern-fried manners, and shattering mad scenes, at the expense of Stanley Kowalski, her animalistic yet charismatic brother-in-law. At Barrington Stage Company in Pittsfield, Mass., director Julianne Boyd delivers a mostly solid production, but Marin Mazzie's Southern belle clobbers Christopher Innvar's sexy brute without working up much of a sweat.
Mazzie, chiefly known for her Tony-nominated turns in Broadway musicals, proves she has dramatic chops as well. She has a tendency to pour on the honeysuckle sweetness a bit too thickly as Blanche flirts with every male on the premises, but as her character's predicament grows more desperate, Mazzie's intensity becomes more convincing. Blanche's objective is crystal clear: to find a safe place either through fantasy, booze, or in the arms of a gentleman caller. Mazzie pays attention to details such as Blanche's love of clothes and the importance of making herself attractive. It's a powerful portrait of a woman trapped in illusion by an actor grounded in reality.
Unfortunately, Innvar's Stanley is not in her class. While the actor possesses the necessary muscular physique and rough good looks, he plays Kowalski as a spoiled brat whose favorite toy (Stella) has been taken from him. Innvar gets the rage right, but there is no sexual chemistry between him and Mazzie, making Stanley's vicious rape of Blanche implausible.
Boyd's staging forcefully puts across the central conflict, but she detracts from the main action a little too often with French Quarter slice-of-life bits and musical interludes featuring a blues singer and musician. While vocalist Chavez Ravine has a robust bawdy way with a tune and Thom Rivera plays a mean guitar and trumpet, their performances, which open and close each act, feel like an interruption rather than a comment on the play.
Kim Stauffer's Stella is surprisingly sturdy. You can see her internal struggle between her sensual hunger for her husband and her loyalty to her sister. Kevin Carolan makes for a sympathetic Mitch.
Brian Prather's set, Scott Pinkney's lighting, and Elizabeth Flautho's costumes convey the seedy charm of 1940s New Orleans for this mostly satisfying "Streetcar."
Presented by and at Barrington Stage Company
,
30 Union St
.,
Pittsfield, Mass
.
Aug. 9
–
29. Tue. and Wed
.,
7 p.m
.;
Thu
.–
Sat
.,
8 p.m
.;
Wed. and Fri
.,
2 p.m
.;
Sun
.,
5 p.m
.
(
413
)
236-8888 or www.barringtonstageco.org
.
Casting by Pat McCorkle
.