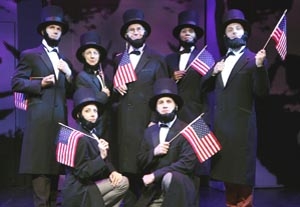 When, about midway through "Abraham Lincoln's Big Gay Dance Party," a tacky traveling scrim decorated with cornstalks suddenly stuck—stranding actors Robert Hogan and a blood-soaked Ben Roberts in one for what seemed like an eternity as two other actors yanked and tugged in vain center stage—it seemed the perfect metaphor for the evening. No matter what the ministrations of this talented company, there was nothing it could do to get this politically naive, toothlessly satirical, tediously melodramatic show going. I'm afraid Abe's party is a total bust.
Setting the proceedings in rural Illinois, author Aaron Loeb spins a tale of a long-closeted lesbian elementary schoolteacher named Harmony, who hijacks the fourth-grade Christmas pageant to spread the news that Abraham Lincoln's close relationship with friend Joshua Speed may mean that our 17th president was gay. The local district attorney, Tom, a right-wing, homophobic ex-congressman, somehow puts Harmony on trial (we're never told what the specific legal charge is). The case soon becomes a national cause célèbre, drawing Anton, a gay Pulitzer Prize–winning reporter from The New York Times, and Esmerelda, his bombshell Cuban photographer associate. Soon the Republicans, thrilled at Tom's newfound profile, are planning to run the D.A. for governor, which spoils the well-laid plans of Regina, a black libertarian-inclined state senator who wants the Republican gubernatorial nomination. Regina signs on as the defense attorney. Oh, and Tom is Regina's mentor. Oh, oh, and Tom has a handsome son, Jerry, who runs a bakery and is ferociously closeted. (Jerry has a girlfriend in Canada, which gives you some idea of the level of humor.) All this is played with embarrassing sincerity while being punctuated by stale political arguments (about black civil rights versus gay civil rights, urban gays versus rural gays, and homophobic demonization versus tolerance and acceptance) and silly extraneous dance sequences in which the actors dress up as cartoon Lincolns and sashay about. It all blends about as successfully as the BP oil spill has with the Gulf of Mexico. Worse, any homophobe who happens to wander in on the inanity is only likely to have his or her prejudices reinforced.
A hit in last year's New York International Fringe Festival, the show has been shortened by half an hour and recast. I've admired Pippa Pearthree since I first saw her in "American Days" and "The Dining Room" back in the early 1980s, but there's little she can do with Harmony, whose decision to use fourth-graders to persuade red-state America to support gay rights makes the character too stupid to be believable. Arnie Burton goes into comic overdrive trying to give the clichéd Anton some edge, while Stephanie Pope Caffey fares better opposite Burton as the extravagant Esmerelda than she does as the Condoleezza Rice knockoff Regina. Best is probably Ted Koch, who plays a sinister Republican political operative with appropriate alpha-male attitude.
Director Chris Smith lets the pace lag and does nothing to help his actors, address the script's myriad problems, compensate for its tonal schizophrenia, or ameliorate its trivializations of important issues. Nor does Loeb's cutesie audience-participation gimmick "draw theatergoers into the conflict," as an interview with him claims. Instead, it just highlights that he thinks his plot is so interesting that it can sustain being told three times, with nothing to keep us hooked but some gap-filling. Perhaps he's never seen "Rashomon."
I'd say I can't imagine how "Abraham Lincoln's Big Gay Dance Party" was a Fringe hit, except that wouldn't be true. It is, however, proof that putative producers would be wise to think twice before transferring such hits. To paraphrase a famous American gambling center's motto, many times what happens in the Fringe is better off staying in the Fringe.
Presented by Bluerare Productions in association with Aaron Glick and Deborah Taylor at the Acorn Theatre, 410 W. 42nd St
.,
NYC. Aug. 11
–
Sept. 5. Tue
.,
7 p.m
.;
Wed
.–
Fri
.,
8 p.m
.;
Sat
.,
2 and 8 p.m
.;
Sun
.,
3 and 7 p.m
. (
No performance Thu
.,
Aug. 12
.) (
212
)
239-6200
, (
800
)
432-7250, or www.telecharge.com. Casting by Howie Cherpakov
.